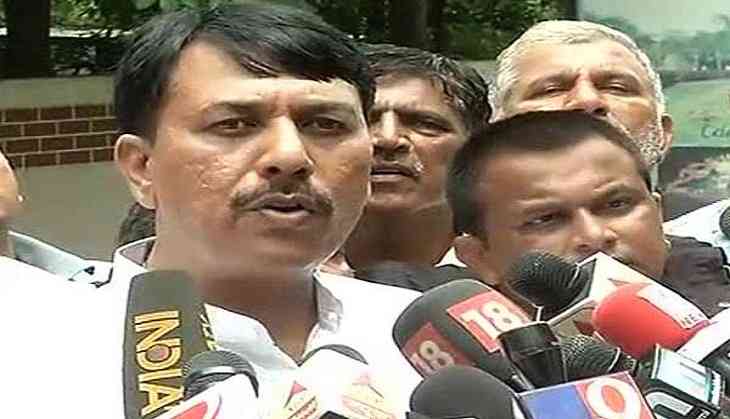 Congress MLA Amit Chavda on Monday said that the 44 MLA's of the Congress together left Gujarat to protect the democracy of India and protect themselves from Bharatiya Janata Party-led ruling government's horse trading.
Addressing the media here, Chavda said everyone has seen how in Gujarat BJP chief Amit Shah and Prime Minister Narendra Modi are trying to destroy the democracy in India, threaten the MLAs, pressurise them and trying horse trading politics.
"To protect the democracy of India, all the 44 MLA's of Congress together left Gujarat. Today we came back to Gujarat because today is Raksha Bandhan, among 44 MLA's there are 2 female MLA's," he said
However, the Janata Dal Party JD (U) advised the Congress Party that hiding its MLAs is not the way to give a strong response to Bharatiya Janata Party-led ruling government's horse trading.
Speaking to ANI, JD (U) leader Ali Anwar cornered the BJP for misusing the power for political vote trading.
"Open misuse of power, pressurizing and blackmailing is happening blatantly. Some are running to Karnataka, some are staying here. The Congress party should understand that public is the one who takes the decision. They should understand that who is weak in everyone's eyes is actually the strongest. Going to some other place and protecting yourself is a shortcut measure but this is the fact that ruling government is misusing the power," Anwar told ANI.
Earlier in the day, all the 44 Gujarat Congress MLAs who were holed in Karnataka's resort as a result of the alleged horse-trading by the BJP ahead of the Rajya Sabha elections, returned back to the state.
As soon as the MLAs landed at the state capital they were taken to the Neejanand Resort in Gujarat's Anand district, located 77 km from Ahmedabad, ahead of the Rajya Sabha elections which is to be held tomorrow for three seats.
After reaching the resort, senior Ahmed Patel expressed confidence on his party and said all the MLAs of the party stand united.
"We are confident of victory, all MLAs are with us," he told ANI.
All the MLAs were whisked away to Bengaluru's Eagleton Resort, after six of the Gujarat Congress MLAs quitted the party and joined the BJP.
The BJP has fielded party president Amit Shah, Union Minister Smriti Irani and Balwantsinh Rajput against Congress' Ahmed Patel.
-ANI