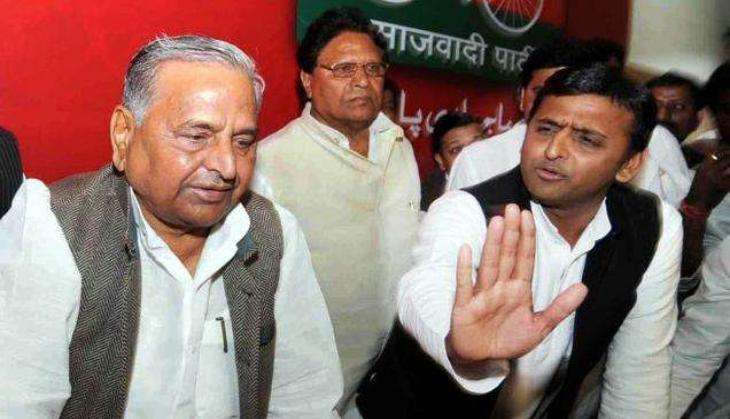 With the recent developments in Uttar Pradesh in connection with Shivpal Singh Yadav, who was stripped off his key ministries on 13 September, the rift in Chief Minister Akhilesh Yadav's family has apparently come to light.
There had been quite some instances in the past as well when Akhilesh Yadav visibly defied his father and Samajwadi Party President Mulayam Singh Yadav. Here's a look-back at these instances:
1. In the latest development, in what can be seen as a Yadav Vs Yadav war, UP CM Akhilesh took Revenue, Irrigation and PWD ministries away from Shivpal, who is also Akhilesh's uncle.
Earlier on the same day, the Samajwadi Party had replaced Chief Minister Akhilesh Yadav with his uncle Shivpal as its new chief. Akhilesh had been the party's state chief for the last four years.
Despite the fact that Mulayam Singh is very close to his brother Shivpal, Akhilesh Yadav boldly took the step of stripping his uncle off his key ministries.
The move comes at a time when the state is gearing up for assembly election which is scheduled to place next year.
Disagreements between Akhilesh and his uncle have been reported on several occasions, including on the choice of the official to be appointed as the state's chief secretary after Alok Ranjan's term ended, and the postponement of Qaumi Ekta Dal's merger with Samajwadi Party.
2. Akhilesh Yadav also shunted out Chief Secretary Deepak Singhal, who is considered to be close to minister Shivpal Yadav, barely two months after he took charge.
Principal Secretary (Finance) Rahul Bhatnagar has been appointed the new Chief Secretary.
According to the reports, Samajwadi Party insiders have claimed that the Chief Mminister was perhaps not happy with him as he had attended a dinner hosted by Samajwadi Party Rajya Sabha member Amar Singh in Delhi which Akhilesh Yadav gave a miss.
3. On 12 September, the SP government sacked Uttar Pradesh mining minister Gayatri Prasad Prajapati, who as alleged by the Bharatiya Janata Party was the favourite of party supremo Mulayam Singh Yadav.
The minister was sacked from the Samajwadi Party cabinet, following complaints that the minister was involved in a mining scam.
The decision to sack him came after the Allahabad High Court ordered a CBI probe to find out as to why illegal mining was rampant in the state.
Notably, the high court had on 9 September rejected a plea by the UP government for withdrawal of a two-month-old order whereby the CBI had been directed to investigate allegations of illegal mining across UP.
4. SP Chief Mulayam Singh Yadav is believed to have been in favour of a merger with mafia-turned-politician Mukhtar Ansari's party Qaumi Ekta Dal in June this year. However, Akhilesh Yadav had registered a strong objection against the merger.
With Chief Minister Akhilesh Yadav putting his foot down, the Samajwadi Party on 25 June called off its merger with Ansari's party. The decision of merging with QED had drawn all-round flak for the party.
The party also decided on reinduction of Secondary Education Minister Balram Yadav, who was sacked by Akhilesh apparently for facilitating the merger.
The announcement of the merger on 21 June by Cabinet Minister Shivpal Yadav had initiated a tug-of-war in the family.
-With agencies inputs