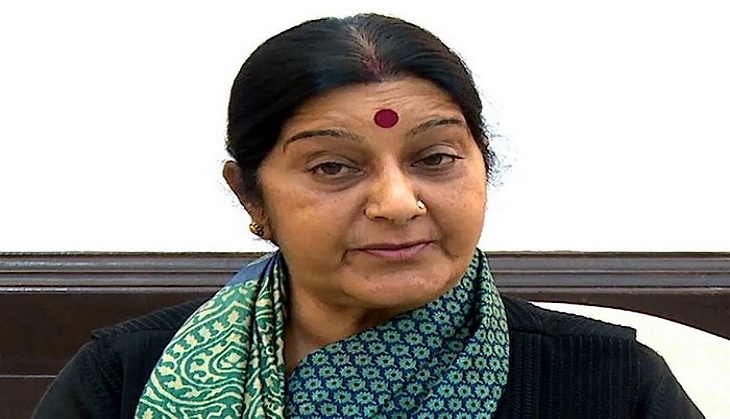 The 39 Indians, kidnapped by the dreaded Islamic State in Iraq in June 2014, are still alive, External Affairs Minister Sushma Swaraj said, dismissing reports about their killing and insisting that efforts to trace them are on.
In her annual press conference, Swaraj said the government was was trying its best to ensure safe release of Judith D'Souza, an aid worker and resident of Kolkata, who was abducted by suspected militants in Kabul on 9 June.
The External Affairs Minister also said India was in touch with top authorities in Bangladesh after a priest of Rama Krishna Mission in Dhaka received death threat.
About 40-year-old Judith, Swaraj said "We are trying our best. The way we are going ahead, I think it will be resolved soon."
Replying to a question on the 39 Indians kidnapped around two years back by Islamic State militants from Mosul town, Swaraj said she did not have "any proof of their killing than the statement of Harjit Masih."
Masih, who had managed to flee from captivity of the Islamic State, claimed all the 39 Indians had been killed. Swaraj questioned Masih's claim saying two heads of states in the Gulf region told her, Prime Minister Narendra Modi and President Pranab Mukherjee that the Indians were alive.
"I am not giving false assurance. If I had confirmation that they were killed, then definitely, I would have sought apology rom their families the with folded hands and said they were killed. Their killing in such a situation in Mosul in Iraq would not have been blamed on me.
"When I say they are alive, I have taken on myself a major responsibility of tracing them....Nobody except Harjit Masih said they were killed. I will do injustice to them if I say they have been killed. It is my the responsibility to (find them) and I will not shy away from it," Swaraj said, adding "I do not abandon any Indian national."
When asked about the death threat to a priest of the Ramakrishna Mission in Dhaka, Swaraj said, "It is very unfortunate. It is painful for us. We are in touch with top authorities."
Replying to a question on a spate of targeted attacks and killings of Hindus and other non-Muslims in Bangladesh, Swaraj said the Sheikh Hasina government is leaving no stone unturned in coming down hard on people who are involved in these incidents.
"More than 3,000 people have been arrested. Sheikh Hasina is taking strong action. More than this, I am happy that Islamic clerics and religious leaders have issued a fatwa saying these kinds of activities are anti-Islamic and it has been signed by one lakh religious leaders," she said.
Swaraj said the government was drafting a policy to help persecuted minorities in various countries. She said the government will help people of all religions and not only the Hindus.
- PTI