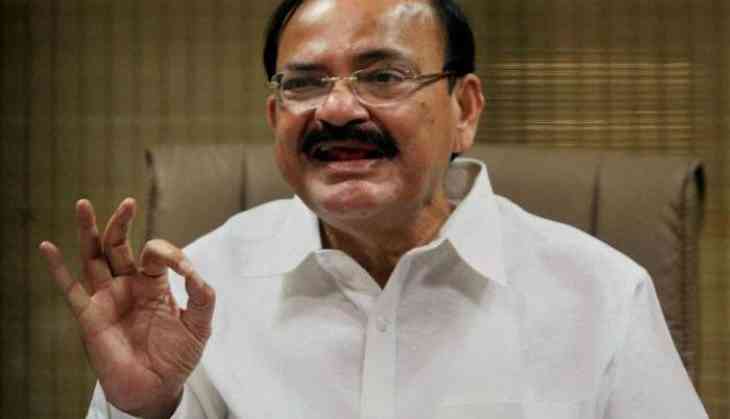 3 years of Modi united India, unleashed its potential: Venkaiah Naidu
Asserting that the Prime Minister Narendra Modi-led government in its three years of its tenure unleashed the true potential of the nation, Union Minister Venkaiah Naidu on Friday said that in this incumbent tenure of the Bharatiya Janata Party, India is riding high towards development more than ever.
Naidu took to Twitter to highlight the accomplishment of three years of the NDA government and said that Prime Minister Modi's government has united the nation more than ever
"Under PM Shri Modi unleashing the potential of Indians and India. Great going," Naidu Tweeted.
"#3YearsofModiGovt united the nation more than ever before in its resolve & unity of action for Making of Developed India. India riding high," he added.
Naidu further said that the Prime Minister's rule brought people out of despair and motivated them to race towards new horizons.
"3YearsofModiGovt brought the people out of despair and racing towards new horizons. 2014 mandate taking shape steadily. Thanks Team India," he said.
"#3YearsofModiGovt made every citizen proud of being Indian. With belief in self and leadership restored, India set to scale new heights," he added.
Naidu also threw light on the fact that the saffron government, while focusing on the development of the poor and marginalized, laid foundation for a new India full of hopes and aspirations.
"#3YearsofModiGovt empowerment of gaon, garib, kisan, yuva, mazdoor, mahila, SCs, STs & minorities 1," he said.
"Laid the foundation for a New India of the hopes and aspirations of all. #SabkaSaathSabkaVikas 2," he added.
Highlighting the qualities of his government, Naidu said that BJP's rule in the past three years has been decisive, honest, caring, considerate, unifying, innovative, accountable, empowering governance .
"#3yearsofModiGovt 3 yrs of urban transformation infused new vigor in city and state govts for building a resurgent Urban India. Cities competing with each other holds promise for better living. Thanx Team India. #3yearsofModiGovt," he said.
"#3yearsofModiGovt Over Rs.4 lakh cr investments in urban infra approved in last 3 yrs," he added.
The BJP will be organising a pan-Indian festival-like publicity campaign to highlight the achievements of the Modi-led National Democratic Alliance's ( NDA) three year rule.
The campaign's name has been linked with the surname of the Prime Minister- ' Making of Developed India (MODI).
Prime Minister Modi will inaugurate the festival from Guwahati in Assam on Friday.
A central Control Room will be established at the party headquarters in Delhi to coordinate and monitor the mega event that will continue till June 15.
All union ministers, BJP's Members of Parliament, chief ministers and deputy chief ministers of the BJP ruled states will take part in the massive exercise to ensure that Prime Minister's message of growth and development reaches every district in the country.
Party president Amit Shah will take part in the MODI fest in Kerala, Andaman and Nicobar Islands, Chhattisgarh and Arunachal Pradesh.
Union Home Minister Rajnath Singh will attend the events in Jaipur and Mumbai, while External Affairs Minister Sushma Swaraj will be in Delhi and Lucknow.
Union Ministers Arun Jaitley will participate in the MODI fest in Bengaluru and Ahmedabad; M. Venkaiah Naidu in Bhuwaneshwar and Chhattisgarh, Nitin Gadkari in Chennai and Ranchi in Jharkhand.
The Chief Ministers of the BJP-ruled states will not only take part in the MODI fest in their states but also in other states.
Rajasthan Chief Minister Vasundhara Raje will attend functions in Shimla, Himachal Pradesh; Goa Chief Minister Manohar Parrikar in Vijaywada, Andhra Pradesh; Maharashtra Chief Minister Devendra Fadanvis in Kochi, Kerala; Gujarat Chief Minister Vijay Rupani in Hubli, Karnataka; and Uttarakhand Chief Minister Trivendra Singh Rawat in Jammu and Kashmir.
Intellectual meets will also be organised across the country wherein the achievements of the Modi government will be presented.
All the union ministers, MPs will attend two functions in the assigned state, one programme each in home state and constituency.
-ANI