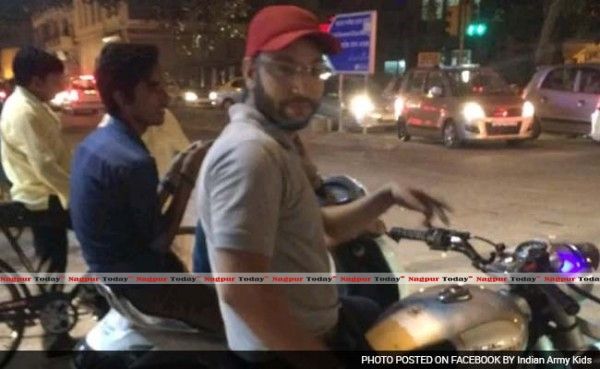 The 22-year-old boy named Sarabjit alias Honey who harassed Jasleen Kaur in Tilak Nagar, Delhi has been taken into custody by Delhi Police today. Jasleen was also rewarded Rs 5000 by the police for showing courage and standing up against the abuse.
FIR has been registered against the accused under sections 354(a), 506 and 509. The accused has been booked under Sections 354A (punishment for sexual harassment) and 509 (word, gesture or act intended to insult the modesty of a woman) of IPC, said a senior police official.
According to Jasleen, he had verbally harassed her at a red light in the area. As she confronted the man who was about to hurt her at the red light signal, he passed lewd comments at her.
When no one came for helping her, braveheart Jasleen decided to stand up for herself. She clicked the pictures of the pervert and told him that she was going to file a police complaint against him.
However, the man riding on a silver Royal Enfield posed for the picture and had the audacity to tell her, "Jo kar sakti hai kar le. Complaint karke dikha, fir dekhiyo kya karta hun main." (Do whatever you want to do, if you complain against me then bear the consequences)
Jasleen took the matter to social networking website Facebook and explained the incident. She wrote, "This man made obscene comments on me today at around 8 pm near Aggarwal, Tilak Nagar. He was on a silver Royal Enfield, vehicle number - DL 4S CE 3623. When I told him that im clicking his picture and i'm going to file a complaint against him, he responded by posing for the picture and said- Jo kar sakti hai kar le. Complaint karke dikha, fir dekhiyo kya karta hun main. [sic]"
The status posted by Jasleen has been shared by more than 7000 users.
When Delhi Police said attempt to kiss isn't molestation
A shocking incident involving Delhi Police came to light after Radhika P Singh from Delhi had posted a status on Facebook which went viral.
Singh had written about the horror her friend had faced when she was molested by a man in broad daylight and how the police harassed her instead of the accused.
She had posted a photograph of the offender, identified as Nikhil, narrating how he forcibly tried kissing Singh's friend in Delhi's Connaught Place area. The victim caught hold of him with the help of passersby and called the cops, which Singh says, 'was the worst mistake'.
She had also revealed the her friend's application was rejected thrice as the inspector had said just trying to kiss a girl is was not molestation.
When a man was held for molestation after the girl had posted the video on Facebook
In February, 2015, the Bhubaneswar Police arrested a businessman for allegedly molesting a girl in an Indigo flight.
An old man sitting behind her allegedly kept poking her from the gap in between the seats. The victim humiliated him in front of other passengers and recorded it on her phone.
The matter had come into light when the victim uploaded a video along with a message on her Facebook timeline saying"This man on the seat behind mine, put his fingers in the seat gap to touch me!!! I was very shocked for sometime to react. By then the flight went to landing mode."