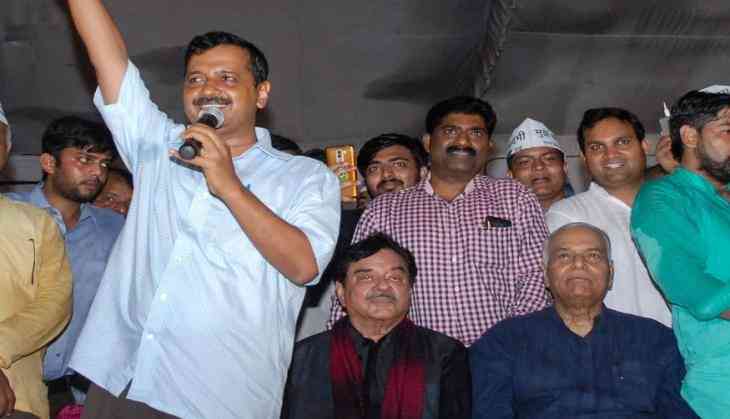 Delhi Chief Minister and AAP chief Arvind Kejriwal have urged sidelined BJP MP Shatrughan Sinha to contest the 2019 elections. Apart from this, he has given an invitation to former BJP veteran Yashwant Sinha to contest the elections. However, Kejriwal seems to be fond of two veteran leaders supports-- both linked to BJP and are now critical of the PM Modi.
While addressing a rally in Noida, on Saturday organised to showcase achievement of his government in the past three years and compare it with the Modi-led BJP government. On this occasion, BJP MP Shatrughan Sinha and former veteran leader Yashwant Sinha have also invited the program. Even, Shatrughan Sinha participated in the rally, without taking part in the BJP's National meeting.
During this, Kejriwal addressed the public meeting and said that some time ago Yashwant Sinha had said that he will not contest elections. Kejriwal said, "Sir, I want to ask you if good people do not fight elections then who will fight? People want you to contest elections."
While speaking about Shatrughan Sinha, he said, "Shatrughan Sinha Ji will fight the elections." But Kejriwal did not take the name of the party or parliamentary area. During this, Shatrughan Sinha also lauded the work of the Delhi government. Sinha said that the work done in the government's health and education sector is unmatched.
Actor-turned-politician Shatrughan Sinha is a BJP MP from Bihar. "I am not speaking against the party [BJP]. I am just speaking the truth. But if the party thinks that those who speak the truth are rebels, then yes I am a rebel and this rebellion," he said.
While Yashwant Sinha, father of Jayant Sinha, a minister in Modi government has been the Union minister in the government of Atal Bihari Vajpayee. The way the two leaders of BJP leaders are moving forward with the Aam Aadmi party, it is said that both the leaders can contest the upcoming Lok Sabha elections on the Aam Aadmi Party ticket.
Also read: 'Bride spends too much time on WhatsApp,' grooms family cancels marriage on wedding day in Uttar Pradesh