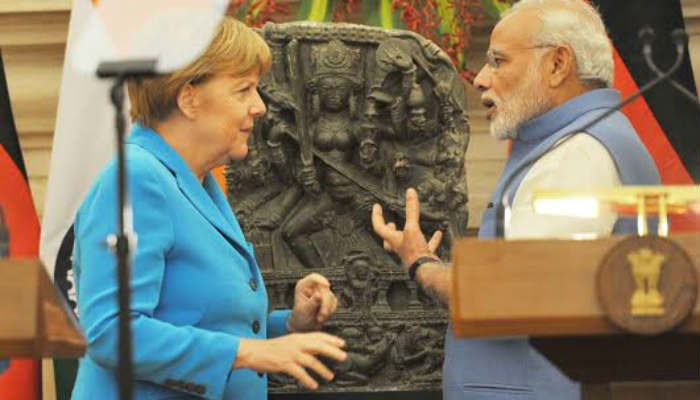 German Chancellor Angela Merkel reached India on 5 October, for her official visit and met Prime Minister Narendra Modi. In a thoughtful gesture, she gifted Modi a 10th century idol of goddess Durga which had gone missing from a Kashmiri temple nearly two decades back and was later found in Germany.
A heritage restored. PM @narendramodi and Chancellor Merkel with the statue of Durga in her Mahishasurmardini avatar pic.twitter.com/iy5829elYu

— Vikas Swarup (@MEAIndia) October 5, 2015
The idol was spotted by Archaeological Survey of India (ASI) at Linden Museum in Stuggart, Germany, in 2012. Merkel handed it over to Modi after their talks.
Reportedly, the idol was stolen from a temple in Pulwama and sold to the museum at a cost of Rs 1.5 crore.
According to official sources, the idol represents the 'Mahishasurmadini' avatar of the goddess.
Subhash Kapoor, an Indian origin US citizen had smuggled the idol out of the country.
Kapoor was running an art gallery called 'art of past' in Manhattan, New York, before he was arrested by Tamil Nadu police on 14 July 2012.
As per a report in News World India, "The statue is from Jammu and Kashmir and is a symbol of victory of good over evil," said Modi while thanking her.
The ASI claims that Kapoor had stolen 30 other ancient artifacts and smuggled them out of the country, which includes 17th century Mahabharata manuscripts.
These artifacts were sold to Singapore's National Museum which has now asked ASI to furnish proof that it belongs to India.
The 10th century Durga idol which was returned by Germany to India today, it was from a temple in Jammu & Kashmir pic.twitter.com/HBv6axsPAX

— ANI (@ANI_news) October 5, 2015