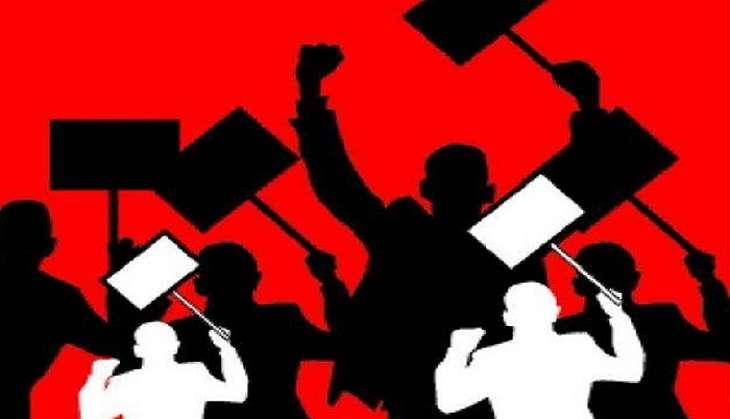 Essential services such as banking, public transport and telecom may be hit tomorrow as 10 central trade unions (CTUs) will go on one-day nationwide strike against government's "indifference" towards their demands and effecting "anti-worker" changes in labour laws.
The unions have claimed that this year's strike will be bigger as the number of striking workers is expected to swell to as much as 18 crore, larger than last year when around 14 crore workers participated.
The CTUs will strike work protesting against what they call the government's apathy towards their 12-point charter of demands, including a monthly minimum wage of Rs 18,000, controlling price rise and assured minimum monthly pension of Rs 3,000.
"This time strike will be bigger than last year as over 18 crore workers from formal and informal sectors would come on streets to protest against government's indifference to their 12-points charter of demands and unilateral anti-worker labour law amendments," Trade Union Coordination Committee (TUCC) General Secretary SP Tiwari said.
He further said, "Besides ports and civil aviation, the essential services like transport, telecom and banking will be paralysed. The workers will go on strike in hospitals and power plants, but the protest will not affect their normal functioning."
He said workers in central public sector undertakings like Coal India, GAIL, ONGC, NTPC, OIL, HAL and BHEL will observe strike on 2 September.
However, Indian Railways and other central government employees will not participate in strike as government has already constituted a committee to look into their demand of raising monthly minimum wage from Rs 18,000 to about Rs 26,000 under the 7th Pay Commission.
Tiwari said: "We are not asking for more. We are demanding Rs 18,000 minimum monthly wage which was accepted by the government on the recommendations of 7th Pay Commission."
He was of the view that the demand is reasonable in the backdrop of price rise. Delhi Government has already hiked monthly minimum wage to Rs 14,052, Rs 15,032 and Rs 18,000 for unskilled, semi-skilled and skilled workers respectively.
All India Trade Union Congress (AITUC) said preparations in industrial areas and various sectoral sections of formal and informal economy are all prepared for making this action as "grand protest of working class" against the anti-labour policies of the Centre.
There will be processions in almost all the industrial clusters of Delhi such as Okhla, Kirtri Nagar, Mayapuri area, Wazirpur, Jhilmil-Shadra, Patparganj and Mangolpuri from the morning along with industrial strike, it added.
"At Jantar Mantar there will be gathering of workers and employees from Banks, Insurance, Universities, Postal, Telecom, Defence and Oil Sectors to have procession to Parliament," AITUC added.
AITUC Secretary Amarjeet Kaur said: "There will be chakka jam in 11 states like Andhra Pradesh, Telengana Tamil Nadu, Bihar, Chhattisgarh, Madhya Pradesh and Karnataka."
Meanwhile, the Centre for India Trade Unions (CITU) said Labour Minister Bandaru Dattatreya had on 31 August informed about the NDA government's commitment to fair earning and social security for the workers.
CITU said it considers this a deliberate "misinformation campaign" to create confusion and to "sabotage" the nationwide general strike on Friday.
It also attacked the RSS-affiliate Bhartiya Mazdoor Sangh (BMS) on accepting the government's "meager" hike in minimum wages.
BMS has decided not to participate in strike. Last year also on 2 September, the union has opted out of the strike at the last moment.
Minimum wage announced by the government is not even half of what all central trade unions including BMS had unitedly demanded and have been pursuing for the last 5 years, it said.
-PTI