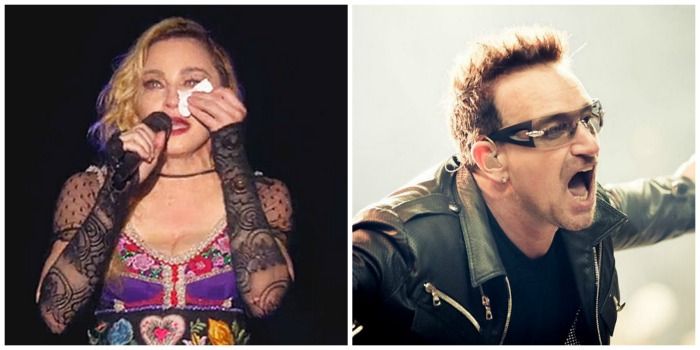 The world stopped in shock as news of the horrifying #ParisAttacks trickled in. Even as the footage of the massacre took over TV screens, we watched in horror, in pain, in disgust.
Pop icon Madonna was in Stockholm, Sweden when the attacks took place, with a concert slated for Saturday night as part of her Rebel Heart World Tour.
And never were the words Rebel Heart truer than when she took the stage on Saturday night, picked up the mike, and delivered a heartfelt tribute to Paris, as well as a commitment to keep the music going.
With tears in her eyes, the feisty singer told a cheering crowd: "It's been really hard actually to get through the show, because in many ways, I feel torn. Like, why am I up here dancing and having fun when people are crying over the loss of their loved ones? However, that is exactly what these people want us to do. They want to shut us up. They want to silence us. And we won't let them."
Watch:
With a fervent request to change the way people treat each other on a daily basis, Madonna's speech was followed by a minute of silence and a soulful acoustic rendition of "Like a Prayer."
Echoing her sentiments, U2's Bono who had to cancel a concert scheduled in Paris for Saturday, said that this was the 'first direct hit on music'. "These are our people. This could be me at a show. It's a very recognizable situation for you and for me, and the cold-blooded aspect of this slaughter is deeply disturbing and that's what I can't get out of my head."
You can listen to his interview on SoundCloud.
With France in a state of emergency, Foo Fighters, Coldplay, U2 have all had to cancel their concerts. Both Coldplay and Foo Fighters have expressed solidarity with France, expressing their shock at the mindless killings at the music concert.