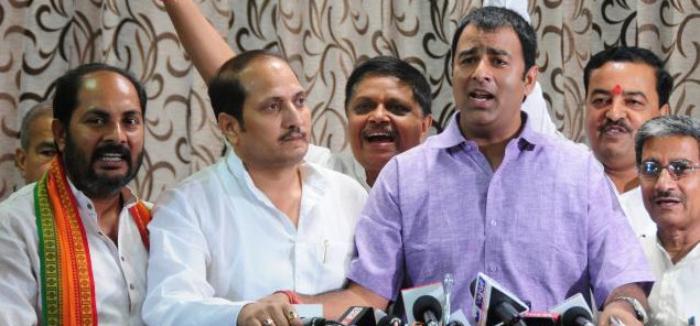 Stirring the political cauldron, controversial Bhartiya Janta Party (BJP) MLA Sangeet Som visited Dadri on 4 October where he warned the Samajwadi Party government for paying a hefty price if they continue 'appeasing' the Muslims.
Som also attacked the SP government alleging that it was framing innocent people in the Dadri lynching case in which Mohammad Akhlaq was killed over beef rumours.
Som, who was accused of making inflammatory speeches during the 2013 Muzaffarnagar communal riots, alleged that state government was acting in a biased manner like it did during violence in western Uttar Pradesh two years ago and was shielding those who had "slaughtered cow".
"Like they had taken the accused in Muzaffarnagar riots in a plane, they have taken those who have slaughtered cow in a plane. Even when a person is killed, they have different set of rules. Sanjay Rahul Yadav was shot in the incident, but is anyone aware. Did the government help him," Som stated.
The UP lawmaker's remarks came even as BJP leader and Union Home Minister Rajnath Singh said the incident should not be given communal colour or politicised.
Som questioned why the state government had allowed AIMIM leader Asaduddin Owaisi to visit the village and spread "communal frenzy".
"A person like Owaisi was allowed to come here from Hyderabad. Is the Samajwadi Party government colluding with him? A person from Hyderabad comes and is able to make such statements. Is it not the weakness of the government?
"This government is trying to appease a particular community. They want to do politics of appeasement which we will not allow," said the MLA who reportedly met the families of those arrested in the case and also addressed a meeting at a local temple in Bishada from where an announcement had triggered mob fury."
Questioning the arrests in the lynching case, he said, "We don't want that those guilty of murder should not be tried but the government should stop framing the innocent."
"Murder cases are on the rise in the state but is the government acting in the same manner in those cases. Are terrorists living here? Police should make arrests only after completing the investigation," the MLA said.
However, Chief Minister Akhilesh Yadav dismissed criticism of the government saying that Samajwadi Party would "never do politics" on such incidents.
"Those doing politics can level any allegation, but I want to assure that Samajwadis never do politics on such things. Since SP government came to power there are some forces trying to create one or the other atmosphere," he alleged after meeting Akhlaq's mother Asgari, brother Mohammed Afzal and daughter Shaista.
Assuring all help for the victim's son Danish, who was injured in the attack, he said, "Best possible treatment will be ensured wherever the family wishes. We will also provide house, complete security and if required job to one family member of the family."
The SP government has also raised the compensatory amount to Rs 45 lakh, which had earlier promised of providing Rs 10 lakh.
-PTI