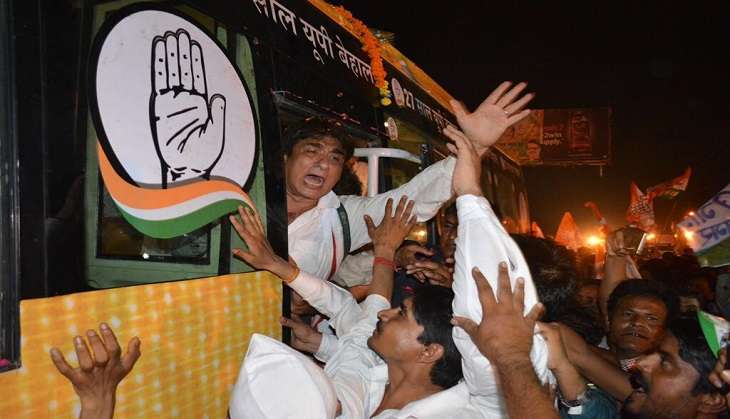 Uttar Pradesh Congress president Raj Babbar today charged the ruling Samajwadi Party in Uttar Pradesh and the BJP with "conspiring to whip up communal frenzy" ahead of Assembly elections in the state in a bid to "polarise voters and reap electoral dividends".
Babbar, who is leading the party's "27 saal UP behaal yatra" (UP in distress for the past 27 years march), said "an atmosphere of fear prevails in UP thanks to the lawless regime of the SP. The ruling party is busy patronising criminals and indulging in rampant corruption."
"There is also extreme disappointment with the BJP which is in power at the Centre. People of the state today regret having reposed so much of trust in the party and the leadership of Narendra Modi in the last general elections," he alleged.
"Moreover, both BJP and SP seem to be conspiring to whip up communal frenzy ahead of the assembly elections, which are just a few months away. Their objective is to polarise voters and reap electoral dividends. Little do they realise the harm this type of politics could bring upon the people of UP," he said.
The UPCC chief claimed "against this backdrop the people of the state are looking at the Congress with a lot of hope. They are recalling how things were until 27 years ago when our party used to rule the state and the decline in quality of administration that has characterised the period during which UP has been ruled by SP, BSP and BJP at different points of time."
Earlier, flanked by senior party colleagues Pramod Tiwari and PL Puniya, Babbar visited the historic Anand Bhavan, the ancestral house of the Nehru-Gandhi family now converted into a museum, where the Congress used to have its headquarters before Independence.
Incidentally, Babbar began his political career in 1989 with VP Singh's Janata Dal which went on to form the government after the Congress was ousted from power in the general elections held that year.
A few years later he joined the Samajwadi Party floated by Mulayam Singh. However, in 2006 when VP Singh gave up his self-imposed exile from politics and floated the Jan Morcha, Babbar - then a suspended SP member - joined the outfit.
In 2008, he joined the Congress and although he lost from Agra in the Lok Sabha elections held next year, he wrested Firozabad for his party in a by-election defeating Dimple Yadav, wife of UP Chief Minister Akhilesh Yadav. He was named the party's UP unit chief in July this year, a move that took all by surprise. The Congress has less than 30 seats in the 403-strong state assembly and two Lok Sabha seats out of 80 in UP.
--PTI