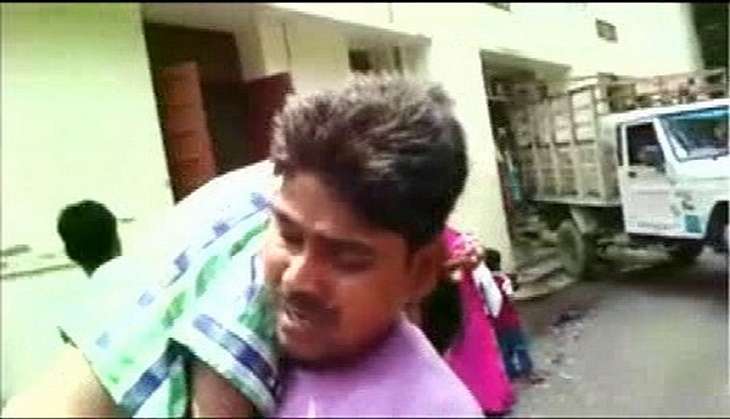 Deteriorating health facilities in the state of Uttar Pradesh has come into light once again, and this time it is a shocking incident from Kanpur, where a 12-year-old boy died on his father's shoulder because he was denied timely access to medical facilities at different hospitals.
The incident took place on 26 August when Ansh, a resident of Kanpur's Fazalganj area, was admitted to a medical facility with high fever.
After being treated in private hospitals for two days, his father finally took him to the Lala Lajpat Rai (Hallet) Hospital. Doctors at the hospital told the father to take Ansh to the children's ward, but by the time Ansh's father, Sunil, carried Ansh to the children's ward, the 12-year-old boy died.
"My son had high fever... He was studying in class sixth. He was very good at his studies. Doctors at the children's ward told me had I arrived 10 minutes before, my son would have been saved," the father said carrying his dead son on his shoulder.
"It is negligence on the part of the Hallet Hospital. They did not provide treatment to my son. They didn't even provide me a stretcher. I was running from here to there carrying my son on my shoulder," a teary Sunil said.
The tragedy highlights, once again, the poor state of health care in UP, and also brings UP CM Akhilesh Yadav's tall claims of developmental change in the state. Though, the Samajwadi government is investing a lot in advertising about its government's 'achievements', it is high time that the ministers start looking into such issues and find out a feasible solution for at least providing basic facilities in a hospital.
Though, UP health minister Ravidas Mehrotra said that whoever is guilty will not be spared, it is high time that the government actually probe the cause and ensure that such things don't happen in the state.
-With inputs from ANI