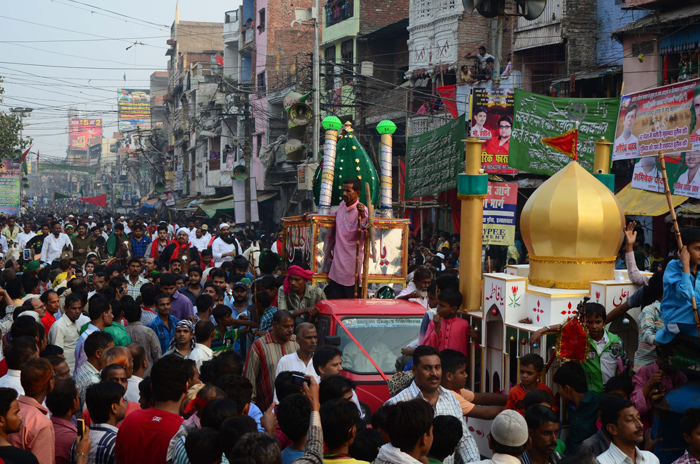 Despite the recent events of communal disharmony in Uttar Pradesh, Hindu-Muslim harmony in UP, popularly called as 'Ganga-Jamuna tehzeeb' is still continuing in the state.
In Lucknow, Muslim clerics while addressing 'Majlis' (religious congregation) recite Hindu 'shlokas' as the month of Moharram began last week.
Muslims clerics also organised an event to spread the need for communal harmony by showcasing why Hindus consider Cow as a holy animal. In the event cow milk was offered to the people, and eminent cleric Maulana Khalid Rashid Farangi Mahali urged the people from his community to avoid eating beef as it hurt the sentiments of Hindus.
Meanwhile in Allahabad, Muslims came out in large numbers to tell the officials that they would not immerse their 'tazias' in the Ganga since immersion of Hindu idols had been banned for protecting the environment.
Also Muslims have decided not to take out the Moharaam procession on 23 October as the date coincides with the famous 'Bharat Milap Yatra' in the city.
Allahabad's Senior Superintendent of Police K.S. Emanuel is full of praise for the Muslim community, and says the decision has paved the way for stronger communal harmony.
These little known instances are taking place at a time when much of Uttar Pradesh became charged after a Hindu mob lynched Mohammad Akhlaq over rumours that his family had eaten beef.