Raza Naqvi
| Updated on: 23 October 2015, 12:12 IST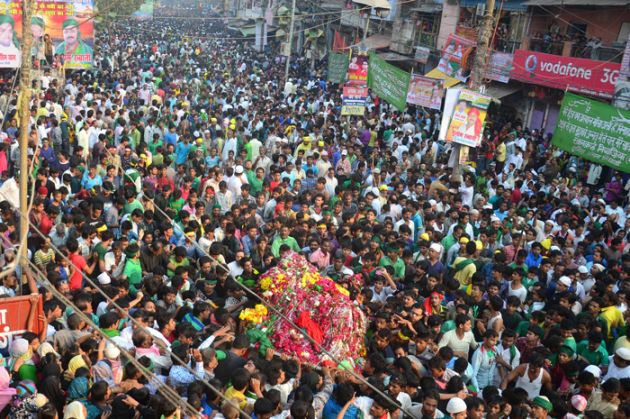 Recently, our country has witnessed many cases of religious intolerance, but as tenth day of Moharram (Ashura)- a day specifically dedicated to the memory of the martyrdom of Imam Hussain is nearing, not many know that Brahmins too had fought for Imam Hussain, grandson of the Prophet Mohammad during the Battle of Karbala (680 AD).
Who are these Brahmins?
These Brahmins, popularly known as Hussaini Brahmins have an intertwined link with Islam and Hinduism. It is said that their ancestor Rahab Sidh Dutt had travelled all the way to Karbala (now modern Iraq) and sacrificed the lives of his seven sons for Imam Hussain in the Battle of Karbala.
Seeing Dutt's love, Imam Hussain had conferred upon him the title of Sultan and had told him to return to India. After coming back to India, Dutt had taken the prefix of 'Hussaini' to signify his close bond with Imam Hussain. Since then these Brahmins have been called Hussaini Brahmins.
Reportedly, at present the Hussaini Brahmins have a community of around 125 families with surnames like Mohan, Bali, Chibber, Dutt, Bakshi, Lav and Bimwal.
After Partition, the Hussaini Brahmins, also known as Mohyals, had migrated from Punjab to mainly Maharashtra, Uttar Pradesh and the rest to other parts of the country. Most of the Hussaini Brahmins continued the warrior tradition of their ancestors by joining the Indian Army.
Hindus believe and respect Imam Hussain
While talking to Catch, KK Bali a Hussaini Brahmin who resides in Lucknow said, "Hindus believe in Imam Hussain and respect him for his contributions towards Islam."
Speaking about their participation in Moharram, he said, "Earlier when I used to live in old Lucknow we kept Tazias at home which were buried on the 10th of Moharram, but things changed since we shifted." He added that now he attends the 'Majlis' (religious congregation) in Lucknow, especially in the city's famous Shahnajaf Imambara.
He also recalls how Indian Muslims initially didn't believe that Hussaini Brahmins fought in the Battle of Karbala. He explains, "As Hussaini Brahmins belonged to parts of Pakistan and Afghanistan, some of them migrated to India after Partition, and when they used to tell Muslims in Lucknow that their ancestors had fought for Imam Hussain, nobody believed them."
He added that it was only later that they came to know about them and started recognising them as Hussaini Brahmins.
Speaking about his community, Bali said, "Now very few Hussaini Brahmins are left; in Lucknow there are only 100-150 members of the community, but before Partition their numbers were bigger."
Apart from attending Majlis, he also writes couplets on Imam Hussain as a tribute to him and the martyrs of Karbala.
Battle of Karbala
The Battle of Karbala took place in 680 AD in Karbala (now modern Iraq). On one side were the followers and family of Imam Hussain, while the side had military forces of Yazid, the Umayyad Caliph.
The Battle of Karbala is commemorated during the month of Moharram, to mourn and grieve the martyrdom of Imam Hussain and the martyrs of Karbala by people across the globe.