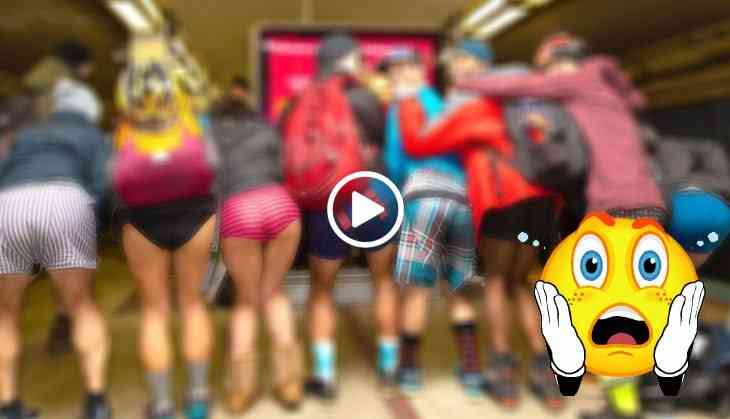 Fashion changes from country to country and due to globalisation, fashion is no more restricted now. Talking about pants or jeans, not only designs but the shape and size of these varies.
Many say that pant around ankles is a bad thing but, on other hands, many calls it a new trend.
However, all such things proved to be wrong when it has become an international trend.
An amusing annual fest has come to light this year as 'No Pants Subway Ride' this year. For the celebration of the annual fest, people were seen bare legs all over the subway stations in various parts of the world.
Amazingly! Countless passengers were seen riding subway trains without pants to participate in the annual No Pants Subway fest.
Also read: A Reddit user's ex-girlfriend asked him to pay Netflix bill from an unknown number; what happened next will tickle your funny bones
However, 2019 marked as the 17th edition of this famous event.
The event has captured the attention of the world and especially on the social media which has been flooded with several images. Not only men but women have also enthusiastically participated in this event.
Check out how people participated in the world:
This is real!
Dozens of Chicagoans participated in the 8th annual No Pants Subway Ride on the CTA Red Line.
This is happening in multiple locations across the world, including New York, Berlin, and the Netherlands.#NoPantsSubwayRide #Chicago #NoPantsDay pic.twitter.com/MfsaMv3Ujq

— Vashon Jordan Jr. (@vashon_photo) January 13, 2019
NO GODS / NO MASTERS / NO PANTS pic.twitter.com/1v1q9cJa2V

— vm ❊ 🏳️‍🌈🇬🇧🐝 (@tentwentysixpm) January 13, 2019
Just waiting for the #toronto #NoPantsSubwayRide pic.twitter.com/x12x1zAcAn

— Jane Stevenson (@JaneCStevenson) January 13, 2019
Happy No Pants Subway day, #NYC 😘 #NoPantsSubway 🚊👖🚫 pic.twitter.com/NMO42G96F1

— Dakota Wolf 💖 (@ulisesgutierr) January 13, 2019
Temperatures in the 30ies and naked legs on the train platform: Just another #NoPantsSubwayRide in New York. pic.twitter.com/fD5ygbCA5B

— Johannes Schmitt-T. (@schmitt_tegge) January 13, 2019
It's a no pants party! The annual #NoPantsSubwayRide is happening now underground. @PIX11News pic.twitter.com/eVkKlcKEhE

— Allison Kaden (@akadennews) January 13, 2019
So this happened#NoPantsSubwayRide pic.twitter.com/pKUYQXlBsZ

— Carlos Brandt (@CarlosBrandt) January 13, 2019
Ain't no party like the #NoPantsSubwayRide party in #Toronto today pic.twitter.com/vXkQkWiHGa

— Jane Stevenson (@JaneCStevenson) January 13, 2019
They take the #NoPantsSubwayRide ride seriously in #toronto. pic.twitter.com/Qkxq8OGPZM

— Jane Stevenson (@JaneCStevenson) January 13, 2019
This international trend was observed on Sunday (January 13), took over subway stations in many cities around the world like Chicago, New York, Berlin, Toronto among others.
This international annual festival 'No Pants Subway Ride' was founded in New York in 2002 and took off. Till then, commuters from Toronto in 2008 started following it at least once a year.
Also read: Did you also search these weirdest things on Internet that made you feel shame for it?