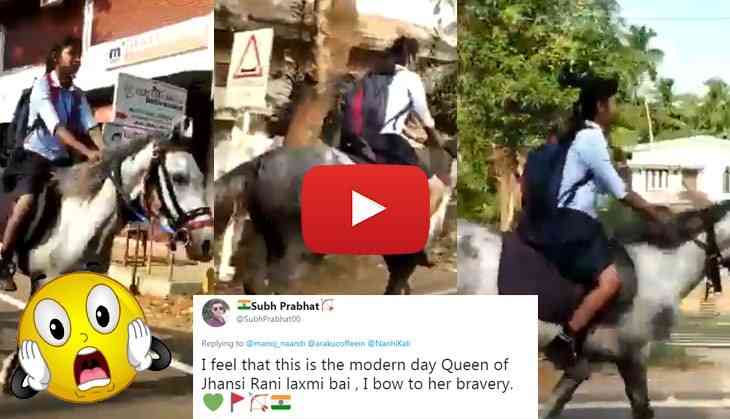 Class 10th and Class 12th students have recently appeared for their CBSE Board exams or for state-level board exams. However, all the Board exams have been concluded now and students are now preparing for their further studies or gearing up for admissions to new class. We all have seen students used to go to their exam centres via transports like bus, rickshaw, car, bicycle or any other vehicle. But have you ever seen any student go to his/her examination centre via horse?
Isn't it sound interesting? Yes, a girl has been spotted on the horse and amazingly she was in her school uniform and carrying her school bag on her shoulder.
Her video also went viral on the social media, in which she can be on the roads of Thrissur galloping on a horse and going towards her exam centre.
The video came to light when a Twitter user took the video on social media.
The tweet was posted by a user named @manoj_naandi. However, his tweet has garnered over 8,000 likes and over 2,700 retweets.
See the video:
This video clip from my #whatsappwonderbox shows how a girl student is going to write her Class X final exam in Thrissur district, Kerala. This story made my Sunday morning brew of @arakucoffeein taste better! After all, ARAKU coffee is about #cupofchange #GirlPower @NanhiKali pic.twitter.com/45zOeFEnwV

— Manoj Kumar (@manoj_naandi) April 7, 2019
According to a Twitter user, the girl's name is CA Krishna and her horse is Ranakrish, "She is Krishna from Thrissur and along with her is 'Ranakrish' ! Her horse."
As per Twitter user, the girl identified as CA Krishna and her horse name is Ranakrish and a student of Class 10 at Holy Grace School in a small town near Thrissur called Mala.
She is Krishna from Trissur and along with her is 'Ranakrish' ! Her horse. She is joining along with me on my breakfast show tomorrow 😊#superher #superhero pic.twitter.com/oti5PHeIQY

— Lishna (@rjlishna) April 7, 2019
However, her video has also sought the attention of Anand Mahindra, the Chairman of Mahindra Group. Even he called her 'my hero'.
Brilliant! Girls' education is galloping ahead...A clip that deserves to go viral globally. This, too, is #IncredibleIndia https://t.co/y1A9wStf7X

— anand mahindra (@anandmahindra) April 7, 2019
Even the business tycoon demanded the photograph of class 10th girl with her horse for his phone screen saver.
Does anyone in Thrissur know this girl? I want a picture of her and her horse as my screen saver. She's my hero..The sight of her charging to school filled me with optimism for the future... https://t.co/6HfnYAHHfu

— anand mahindra (@anandmahindra) April 7, 2019
Also, Twitterati users also called her 'modern day Queen of Jhansi Rani Laxmi Bai'.
Check out how Tweeple reacted:
I feel that this is the modern day Queen of Jhansi Rani laxmi bai , I bow to her bravery.💚🚩🏹🇮🇳

— 🇮🇳Subh Prabhat🏹 (@SubhPrabhat00) April 7, 2019
Bravo Girl, God bless 🙏 https://t.co/k7ONTHEqQp

— Maj Yogesh Dahiya🇮🇳 (@dahiyayogesh81) April 7, 2019
That's really nice to watch.just be steady and careful . Best of luck to her and ALL the students around India taking exams.

— GITA KUMARI (@glizy3) April 7, 2019
यह है मेरा इंडिया आई लव माय इंडिया मेरे देश की शेरनी घोड़े पर चढ़कर पेपर देने जा रही है बहुत खूब

— Kapil Pandit (@Kapil17876223) April 7, 2019
Bravo 👍🏼
Tomorrows jansi in the making.. India needs lot more of them :) and I am sure even #KanganaRanaut will agree.

— Dipal Thakker (@Dipal) April 8, 2019
What do you think about this amazing talent of this class 10th girl?
Comment..
Also read: Oh no! Lamborghini sports car driver was left in tears after his expensive car got crashed; here's the viral video