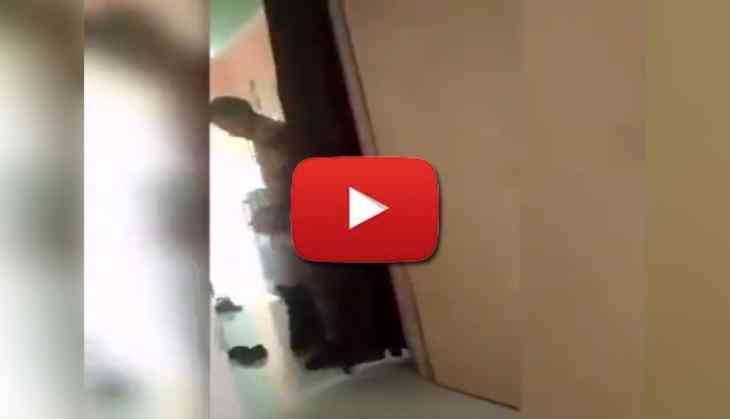 A video has been circulated on the micro-blogging site which proved how duty comes first for police officers.
In the viral video, a police officer can be seen dealing with a very critical situation. One side is his duty and on the other hand, his son who is stopping him from going to work.
The video posted on Twitter with a caption, 'This is the toughest part of the police job," the 1.25-minute video features a crying child clutching onto the father's leg trying to stop him from going to work.'
What father decided even after knowing his child needs him will make you cry hard!
Check out the heart-breaking video:
This is the toughest part of the police job. Due to long and erratic duty hours most of the police officers have to face this situation.

Do watch. pic.twitter.com/aDOVpVZ879

— Arun Bothra (@arunbothra) April 28, 2019
In the viral video, father can be seen consoling his son by saying, "Beta, jaldi aa jaunga, jane de beta."
The heart-breaking video also makes Twitterati emotional and has left many downhearted.
Check out some emotional reactions of Netizens:
Hats off to the families of our policemen too 🙏🏻

— The-Lying-Lama 2.0 (@KyaUkhaadLega) April 28, 2019
No data to display.
So proud of our men & women in uniform. And their families. The backbone of our democracy.

— GAURAV C SAWANT (@gauravcsawant) April 28, 2019
Very caring and affectionate child. He must have received this much of love from his father as well and he is reciprocating.

— (ରିଟୁ) JK Martha (@jkmartha_2018) April 28, 2019
What to say when Duty Vs Life

— J Gopikrishnan (@jgopikrishnan70) April 28, 2019

Well, the video has left many speechless and touched the hearts of millions of people because it has contained lots of emotions that a family of a Police officer or Army officer could understand.
We salute to all such real heroes who have sacrificed a lot of things for their country and countrymen.
Also read: Watch the 'Happy' dance steps of Indian Air Force doctors will make your Monday!