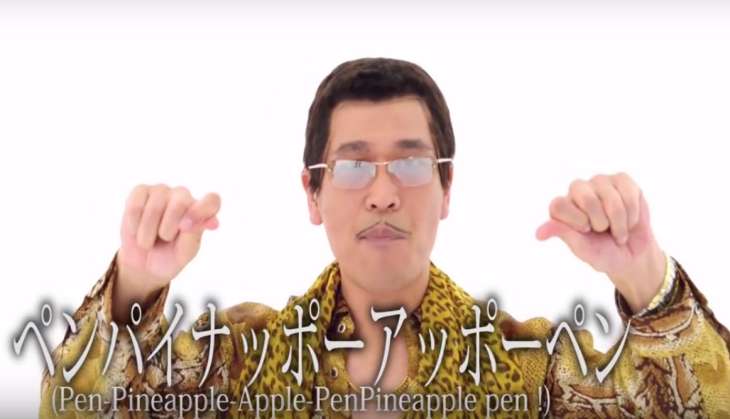 A new song has taken over the internet. But no one seems to know what it is about.
The song, Pen-Pineapple-Apple-Pen, is about, well, pens, apples and pineapples. The song, PPAP for short, comes from the kitty of a caricature singer-songwriter who goes by the name of Piko-Taro.
According to Spoon & Tamago, Piko-Taro is a fictional character created by comedian and DJ Kosaka Daimaou (Kazuhiko Kosaka).
Watch the song here:
PPAP, posted on 25 August, has already garnered over four million YouTube views at last count. It has already been dubbed the viral sensation of the year, and the Gangnam Style of 2016.
The sheer popularity of the song has also inspired DJ Kosaka Daimaou to release a remixed version of it. Here it is, in case you haven't had enough of the earworm:
PPAP has captured the imagination of the masses, with many posting videos of their own version of the song - much like PSY's Gangnam Style did when it was unveiled in 2012.
Here are a few versions the song has inspired:
#PPAP#濱崎 栞奈 pic.twitter.com/81iB32X8jW

— 美紗樹 (@AqKXOfKBbVtcISR) September 15, 2016
Pen-Pineapple-Apple-Pen-Pineapple-pen lyrics
Here are the lyrics of the song, in case you thought it had any other words besides pen, pineapple and apple.
P-P-A-P
I have a pen. I have a Apple
Uh! Apple-pen!
I have a pen. I have Pineapple
Uh! Pineapple-pen!
Apple-pen, Pineapple-pen. Uh!
Pen-Pineapple-Apple-Pen-Pineapple-pen
Good luck getting rid of this earworm. You're welcome!