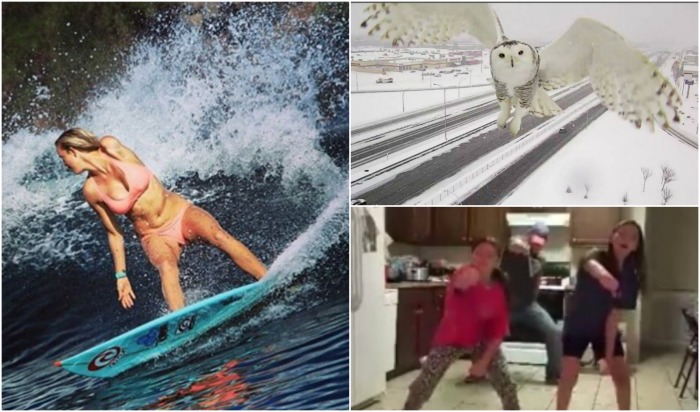 Dancing dads, surfer mom and traffic cameras that have better photography skills than most of us. Here's your daily dose of the adorable, the weird, and the downright amazing.
Funky dad's got the moves
Mike Jones has got the moves and he's not afraid to flaunt it. This daddy sneaks up behind his two teenagers who're doing the Nae Nae (like the rest of the bloody world). The two girls are doing a fine job of whipping the Nae Nae but you won't be able to take your eyes off Mike. He may have a potbelly, but you cannot deny he's got that x-factor.
This surfer mom is extraordinary
Bethany Hamilton who lost one arm in a shark attack in 20013, rode one of the most challenging surfer waves, like a boss. Moreover she did so barely 6 months after giving birth to her first child. Surfing in Hawaii, in the Pe'ahi (also called Jaws), Bethany rode a wave that rose up to 40 feet. Posting photos on her Facebook post, she wrote, 'As we showed up to Pe'ahi (Jaws) I quickly realized, wow this is my chance to have my dreams come true, this is it! The wave is absolutely mesmerizing, definitely a wonder of the world. And I had the opportunity to ride it.'
Hey Hedwig! You've come back
Harry Potter fans everywhere rejoice. Hedwig can come back from the dead.
Montreal's traffic camera captured this clip of a beautiful snowy owl that will remind you of winters in Hogwart's. It is also important to note that this traffic camera has taken a better shot of this owl in motion than most of these Facebook photographers. #kthnxbye