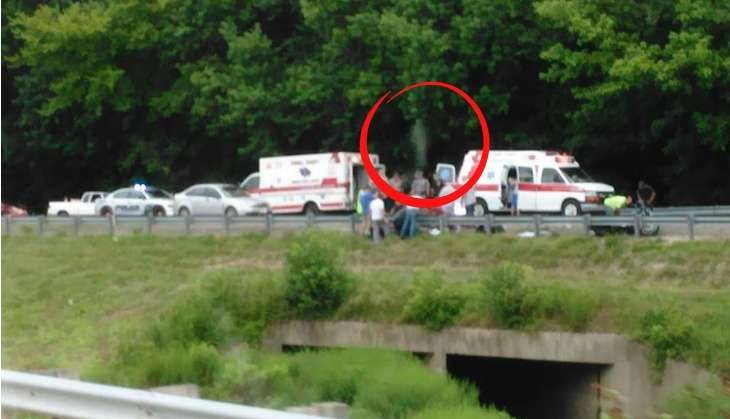 For those of you who're on social media, you've probably seen this image of a pearly white 'ghostly figure' just hanging around a few feet above the ground. This photo from a fatal car crash in Kentucky, USA, has gone viral with over 13k shares on Facebook alone.
Saul Vazquez, who was driving by the highway on 13 July, shared the image with the caption, "I took this picture just few minutes ago from the cab of my truck it was an accident between campton and Stanton on the service road just off of the mountain parkway, zoom in and pay attention to the shadow just off the top of the state trooper hat. All I say is I hope everyone involved is okay!!"
The crash caused massive injuries to the motorcyclist involved, who was rushed to the nearest hospital, where he succumbed to his injuries. Due to the nature of the accident and the appearance of that white shadow, several people on social media are pointing towards a supernatural entity. "I think there's a person that passed away is watching his looking down on his own body," says Facebook user Carmen Clay.
Another, Diana Ramirez Divina Misericordia wrote, "Thank you for posting, Life after death continues and we better prepare to see the unseen... TO SEE OUR CREATOR"
This human was very concerned about the practical aspects of the 'spirit'. User Chantz Howard writes, "Did you see the spirit leave the body with your eyes and took a picture? Or did you happen to take a picture and later notice it? If you saw it with your eyes how fast was the spirit going up?"
As of now, nobody's spoken about the possibility of that white pearly shape being smoke. Which is known to appear when cars crash and are perfectly capable of hovering in the air.
--
Edited by Abha Srivastava