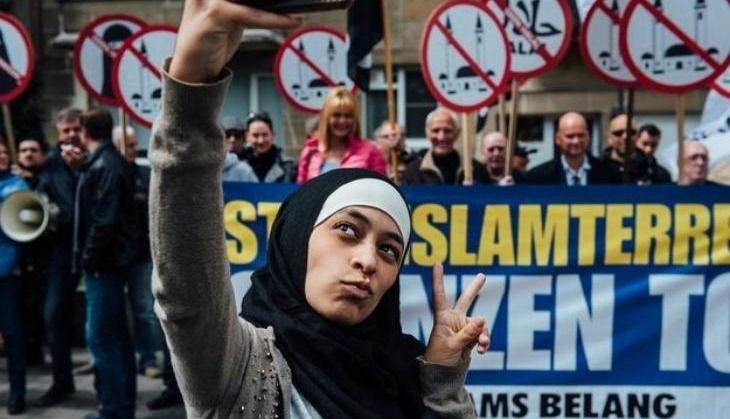 Did you know awesomeness has nothing to do with clothing or religion? If you're anything like the anti-Muslim protesters of the Vlaans Belang party in Antwerp, then the answer is probably no. For the less thick-headed, here's a fabulous story of a girl who just showed the world how to deal with haters.
At a Muslim Lifestyle Expo held in Antwerp, Belgium, last week, the unwanted baggage of protesters came free. These unhappy chaps were protesting the existence of 'Islam' because stupidity is still not a punishable offense.
Holding up placards that said no to Islam and headscarves, these kind folks also handed out food to those attending the Expo. Namely, pork sausages. Which is considered impure by Islam.
Zakia Belkhiri, a 22-year-old who was there with her friends for the Expo and decided to do what's probably millennial's response to, well, a response. She whipped out her phone and took selfies. Her act, caught on camera by photographer Jurgen Augusteyns has expectedly gone viral. According to a report in Buzzfeed News, Belkhiri did so to prove that "we can live together. Not (just) next to each other, but with each other".
The photographer, Augusteyns said: "I knew the moment this happened the images would have ... impact. There's no violence nor insults involved, so she got her point across in a very effective way."
The photos, according to him, made a statement, and put her point across in the best possible way. Belkhiri apparently told him that she needed to take the selfies to show that these right-wingers were essentially harmless.
Next time someone tries to take you down, take a selfie please.
Hahaa! Briljant @rabiosaaloca! 👏👏👏 pic.twitter.com/oRxSyTmnMB

— Arzu Aslan (@rzuaslan) May 16, 2016
What did Zakia Belkhiri do when she walked into an anti-Islam protest? She took selfies #BadAss #Belgium pic.twitter.com/3amzZy8cxs

— Muhammad Lila (@MuhammadLila) May 18, 2016
Muslimah#ZakiaBelkhiri showing the world that anti islam doesn't bother the women of Islam

Be as you wish sisters.. pic.twitter.com/yzVUqPQC0N

— Raja OmarFarooq Khan (@RajaOmarFarooq) May 20, 2016
Hero of the day: Zakia Belkhiri who combated an anti-Muslim demonstration with some selfies and some side-eye pic.twitter.com/dVcemrWdSd

— Mic (@mic) May 17, 2016
#Fearless: Zakia Belkhiri trolls an anti-Muslim demonstration w/ selfies & some serious shade #HERO #MashAllah pic.twitter.com/ZH6jBWfcq8

— M. H Arsalai (@ArsalaiH) May 18, 2016
What a gorgeous woman who fought Semitism with a peaceful reaction "Peace Selfie"
Way to go #ZakiaBelkhiri pic.twitter.com/SQxFMK1aFP

— Oussama Alkhalili (@oalkhalili) May 18, 2016
#ZakiaBelkhiri is my hero & inspiration! Great way to handle racism & Islamophobia! Major respect for @rabiosaaloca. pic.twitter.com/ZzL5iWNS9u

— Amena (@Fashionopolis) May 19, 2016
--
Edited by Abha Srivastava