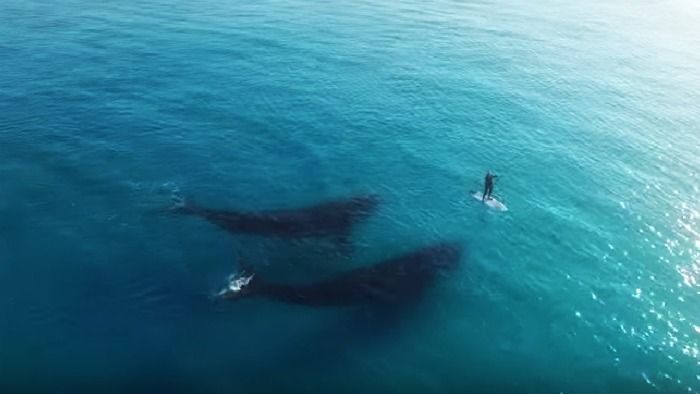 Put together a lone paddle boarder, a couple of whales, a fantastic drone camera and what you'll get is something magical.
The video has been shot by Jaimen Hudson who is quadriplegic and uses the drone camera to capture shots. Hudson heard that whales had been spotted along the coast of Esperance in Western Australia, and went there with his friend and neighbour Dave Price.
As the video begins - with the soundtrack of John Lennon's Imagine in the background - there is a sense of surrealism as Dave paddle-boards even as the two majestic whales swim merrily below him.
The resulting footage is stunning, to say the least.
"There was one time when the whales lifted their heads up, looked up over Pricey's board. They were so inquisitive and wanted to know what he was. I don't think it was dangerous, the whales moved to where he was and the whole time they were very slow moving and peaceful," Jaimen told abc.net.
On paper, you wouldn't agree with his sentiment, but you are bound to change your mind once you watch this video.
If there is one drone video you have to watch today, let it be this.
m)