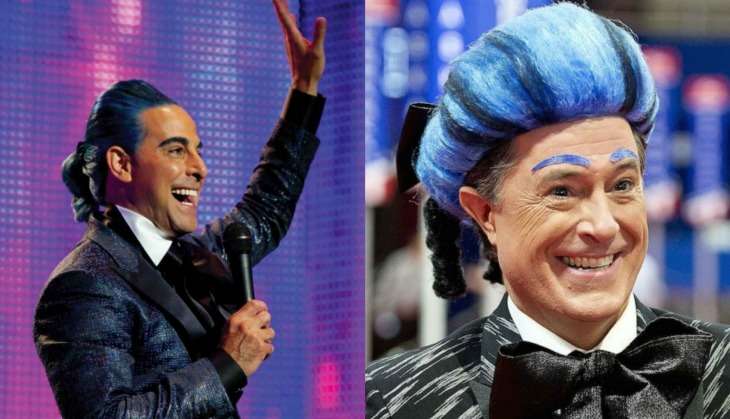 Republican presidential nominee (and quite possibly the inspiration behind McDonald's clown) Donald J Trump is a man of many words. Some believe that Trump's speeches, which once heard can never be unheard thanks to their repetitive nature, are the reason why Mission to Mars has seen renewed enthusiasm in the last few years.
It is easy to deride Trump - what with him being a racist, homophobic, incompetent halfwit - but it would not do to just ignore the good that he is also doing by existing. He has united the workforce in the media which is largely undivided in their opinion that anyone who tans-till-orange, is unfit to hold the highest office in America.
The most impressive fireworks to have gone off against Trump, however, is Stanley Tucci-lookalike, Stephen Colbert. The host of CBS' The Late Show easily elbows out tough competition from John Oliver, Trevor Noah, and Samantha Bee and if you've caught even one of his shows lately, it is easy to see why. The line of attack is so caustic, it is outright abuse, and yet when mixed with Colbert's easy charm and wit, it doesn't feel over the line.
On Sunday, Stephen dressed up in Tucci's Ceaser Flickerman costume from The Hunger Games, strolled into the venue of the Republican National Convention, trolling everything and everyone, ending with the announcement that the 'Republican National Hungry for Power Games' was open. A powerful, heartfelt performance that got him escorted off stage.
The next day he went back to shoot a quotable-quotes song for a segment on his show, and let's just say that as far as trolling like a boss goes, Colbert just won an Oscar. Also, what spectacular dancing!
November is coming, and with it come the election. Will America pick Trump TinyHands or will they go with the lesser evil, Hillary Clinton? Will the media metaphorically standing united against the wall of pure hatred Trump's been pushing, help the Democrats cause? Will Oliver, Colbert, the on-off Stewart's takedown of the Republican nominee knock any sense into America's voting public? Or has xenophobia taken over, as Trump wants?
What with Brexit shocking the socks off the world, the answer to that is no longer certain.
--
Edited by Aishwarya Yerra