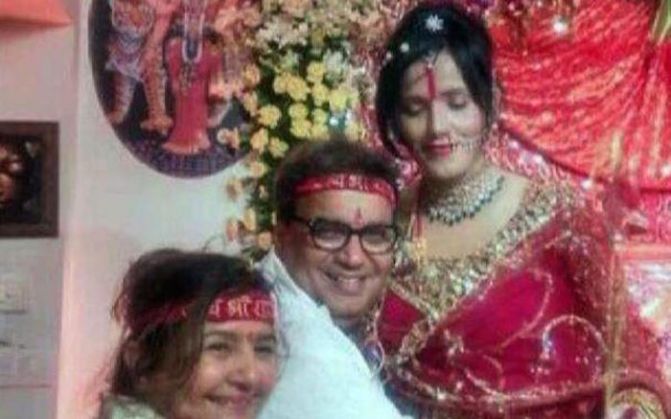 Radhe Maa was born Sukhvinder Kaur in Gurdaspur, Punjab. She married at the age of 17, made clothes for a living, and later became a god-woman famous (infamous?) for her spiritual music-dance extravaganzas - divya darshans and satsangs.
Owing to controversies and allegations of obscenity, Radhe Maa has social media divided. Her devotees, ranging from businessmen to Bollywood and regional stars, have come out in her support. But the most passionate appeal in favour of 'Maa' comes from her self-proclaimed 'father', Subash Ghai.
After a photo of Ghai and his wife Mukta hugging Radhe Maa was circulated on the internet, the director-producer took to Facebook to clarify his relationship with Maa. Ghai said he, along with other devotees of Maa, has complete faith in her blessings and has never experienced any indecency in his interactions with her.
He added that Radhe Maa leads a normal social life, separate from her life as a goddess incarnate.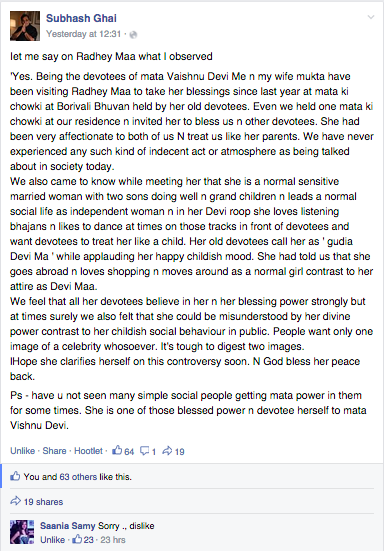 Photos of a BJP MP and regional film-star Manish Tiwari, Dolly Bindra, Prahlad Kakkad, Daler Mehendi and Ravi Kishan with Radhe Maa are also being circulated widely
Here is a video of actor Rakhi Sawant talking about why she likes Radhe Maa
Meanwhile, actors Paresh Rawal and Rishi Kapoor have publically criticised Radhe Maa.