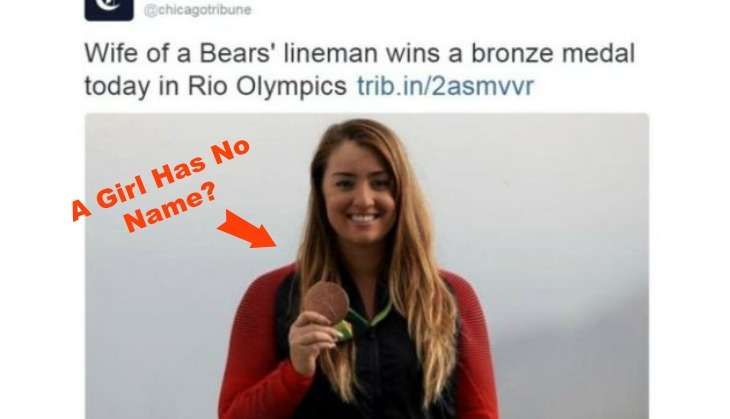 Somewhere between the delayed telecast and outrage over the abhorrent commentary from NBC, many of us missed the memo on the historic moment when acting Brazilian president Michel Temer obviously must have said, "We declare the Rio Olympics 2016 now open. Let the sexism begin."
Since the Olympics began last Friday, it has been pretty difficult to keep track of the scores what with the avalanche of sexism from NBC commentators, truly bizarre mansplaining on social media, and the hopeless objectification of both men and women from the media.
The struggle to stay informed is losing the battle to indignation and sheer frustration at sexism refusing to quit the conversation even in 2016.
Think we're going overboard with our criticism? Think again because here's why you need to feel a little outraged as well:
Because male athletes are never just husbands
In what universe is it okay to introduce an exemplary sportswoman who has JUST won her second Olympic medal, as the wife of Chicago's rugby team player's wife? In none of them.
Chicago Tribune introduced Corey Cogdell as the 'Wife of a Bears' lineman'. Because how does it matter if she's taken her second bronze medal home for women's trap shooting? So 'locally' this world class athlete is only known as the wife of her more popular husband?
After massive backlash, they issued an apology via their Twitter account where they conveniently forgot to apologise. Such mansplaining. Such wow.
August 8, 2016
Because her achievement is her own
Unless the husbands of Olympians have learned how to possess the bodies of their wives and are physically helping them perform their career best to win medals, don't see how or why this has even come into the picture.
When Hungary's Katinka Hosszu broke the world record in the 400-metre individual medley, the camera's panned to her husband and coach Shane Tusup and the NBC commentator called him "the man responsible" for her remarkable feat.
Sure, he deserves credit for being her coach. But when Novak Djokovic wins a match, do commentators across the world call Boris Becker, the man responsible? NOPE.
Anyone else uncomfortable with the amount of time Dan Hicks spent congratulating Hosszu's husband for HER amazing accomplishment?

— Hayley Collins (@hayley_mo77) August 7, 2016
Because Olympics is like reality TV for women
"The people who watch the Olympics are not particularly sports fans. More women watch the games than men, and for the women, they're less interested in the result and more interested in the journey. It's sort of like the ultimate reality show and miniseries wrapped into one," said John Miller, NBC's chief marketing officer.
Yes, we do get terribly confused when we see over 200 countries fighting over measly medals, y'all. Because when you have a uterus, everything feels like Bigg Boss to us. Because women cannot possibly know anything about sports or enjoy them, right?
There has been a 45% increase in the number of female athletes in 2016, Miller. Probably got confused on their way to World's Got Talent.
This is incredibly insulting to women, and bad business. 2016 = raw feeds in real time, on digital platforms. pic.twitter.com/YMSdaRF3w7

— Jennifer Fiore (@jennifer_fiore) August 6, 2016
Because #NotAllMen get that mansplaining isn't okay
Rio Olympics has been a revelation. And in today-I-learned is this jaw-on-the-floor trivia that even professional female athletes aren't exempt from men trying to mansplain their own job to them.
Dutch road racing cyclist Annemiek Van Vleuten met with a horrific accident during her race to the end during the Olympics. When Vleuten posted an update on Twitter, informing everyone that she was doing okay, she met this bright young man. He then proceeded to teach Vleuten HOW TO CYCLE.
Wow. Just wow.
And today in 'Men on the Internet' this helpful guy mansplains cycling to an Olympic athlete pic.twitter.com/39qwnXz6HR

— Chanandler Bong (@beggie_smalls) August 8, 2016
Because the media refuses to stop objectifying
Be it men or women, the objectification never stops, does it? Pictures of male swimmers maybe making you 'thirsty' Buzzfeed, but the question is, was that article necessary? If it's not okay to objectify women, vice versa is just as taboo.
Daily Mail isn't of course known for journalism, but to judge leotards is as rock bottom as rock bottom gets.
Who thought this was a good idea?
Why does this even exist?
Why is this happening?
How do we make this go away?
You'd be relieved to know that the tradition of keeping sexism alive has been preserved for yet another year. May the women be forever known for the men in their lives and may the men continue to provide content to lecherous listicles.
Long live objectification. Uterus out.
--
Edited by Abha Srivastava