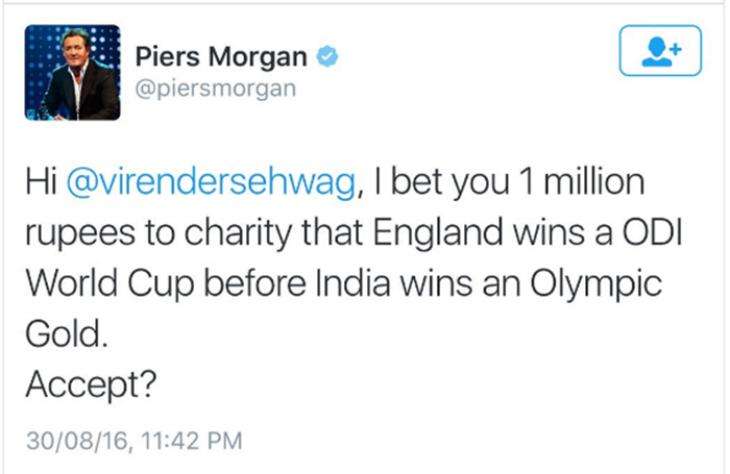 This time however, Morgan has gone a step ahead and displayed ignorance in the age of Google. A crime in itself. Last night, post the stroke of midnight Morgan tagged Sehwag and placed a bet of '1 million rupees' on England winning a cricket World Cup before India wins an Olympic gold.
Sehwag shut him up with a simple reminder that India has 9 Olympic gold medals in its kitty while England has zero World Cups to boast of. He also threw in a reminder that the Kohinoor still remains in the wrong country.
But what is Morgan if not doggedly persistent and foolhardy? He deleted his first tweet and then came back with this.
Hi @virendersehwag, I bet you 1 million rupees to charity that England wins a ODI World Cup before India wins another Olympic Gold. Accept?

— Piers Morgan (@piersmorgan) August 30, 2016
Twitter however, has finally had enough.
.@piersmorgan Okay, this is fine but first donate the 9 million that you lost after the first tweet @virendersehwag pic.twitter.com/TvAAbbCQgu

— Sand-d Singh (@Sand_In_Deed) August 30, 2016
Hey @piersmorgan 1 million rupees is just 10 lakhs in our parlance. That's peanuts! Increase your bid for @virendersehwag to even consider.

— SIDAARRTH SHINDE (@sidaarrthshinde) August 30, 2016
@piersmorgan you will lose. England will never win a cricket world cup @virendersehwag

— BBQ. (@BakwasBandQer) August 30, 2016
@piersmorgan @virendersehwag
England wins a ODI World Cup
"When the sun rises in the west and sets in the east,"
Accept?

— [email protected]®oπ 🇮🇳 TMG🔮 (@sachinitp) August 31, 2016
@piersmorgan @virendersehwag Oh wait, England will win the next ODI world cup because they beat Scotland & Afghanistan in 2015 lol

— डिग्री वाला (@ReloadPolitics) August 30, 2016
@piersmorgan @virendersehwag would that include the English woman's team?

— Jarshad NK (@jarshadnk) August 30, 2016
--
Edited by Abha Srivastava