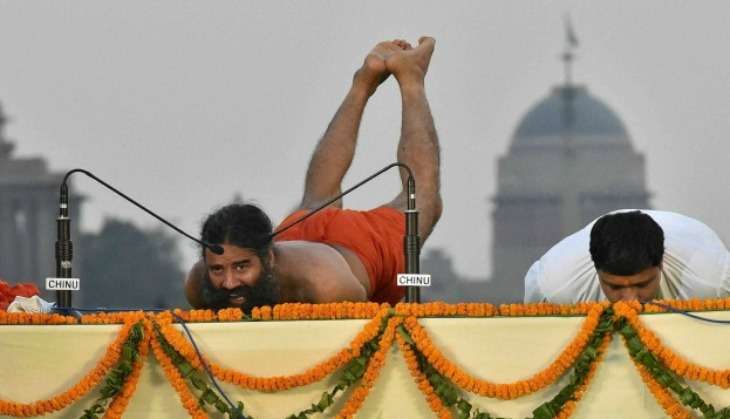 Yoga guru, businessman and televangelist, Baba Ramdev is nothing short of a revolutionary. He was the first of the spiritual gurus to teach yoga wholesale on Sanskaar TV. He may not have been the first to package ayurvedic products and make them readily available, but he was definitely the first one to show prove that his marketing strategy is second to none.
And now, after conquering cosmetics, food, medicine and everything else in between, Baba Ramdev wants to launch a clothing line - Patanjali clothes if you will.
And a key item that literally has Twitter choking on its nada, is the idea of swadeshi jeans. A dreaded item of clothing in many colleges and households who believe women wear it only to attract trouble. The concept of a pair of swadeshi western wear is cause for a lot of giggles today.
What is the ayurvedic procedure to turn this prime example of videshi culture into a swadeshi one?
Head over to Twitter for some instant laughter, you all. The jokes just keep on coming:
What are desi jeans? Do they have a nada? https://t.co/ZfABbMh9LM

— kaveri (@ikaveri) September 10, 2016
What is Desi Jeans?? prewashed in Gau mutra? https://t.co/XrFWZ4xBdk

— Tempest (@ColdCigar) September 11, 2016
If 'swadeshi' jeans then why set up factories in Pakistan & Afghanistan? pic.twitter.com/pYeAncoce6

— Smita Prakash (@smitaprakash) September 12, 2016
Patanjali to launch 'Swadeshi' jeans.
Great.
Khadau-cut will be a smashing hit.

— Rajneesh (@MrMrRajneesh) September 12, 2016
This pic of the Patanjali Jeans is already doing the rounds on WhatsApp😱
Apparently a leaked pic...looks credible 👏🤔 pic.twitter.com/gxd1xZWarj

— Akash Banerjee (@akashbanerjee) September 12, 2016
So after Patanjali jeans girls will be allowed to wear them in all colleges - just asking @Ms_Aflatoon https://t.co/BDBI0SZehC

— Mayank Aggarwal (@journomayank) September 12, 2016