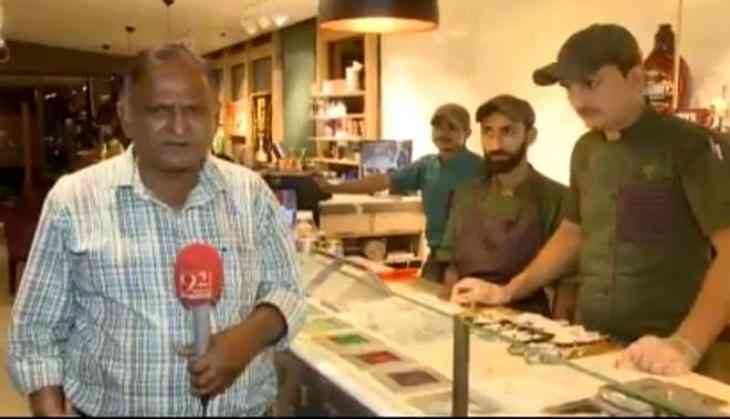 Remember Nawazuddin Siddiqui aka reel life Chand Nawab, a Pakistan journalist from Salman Khan starrer film Bajrangi Bhaijaan, a character inspired from real Chand Nawab is back again. This time he is back in the even more hilarious avatar. In the latest viral video of Chand Nawab, he can be seen trying to tell the audience that Karachi's paan is very famous and a delicacy in Pakistan. "Paan humari sakhafat hai" he states, and then signs off, and instantly puts a paan in his mouth.
And here Nawab does the blunder and drama begins, as he continuously mess-up his lines. He repeatedly tries to go in the flow but struggles, something that immediately takes one back to his hilarious 'Eid' video years ago. This time the journalist and his hilarious avatar is, even more, funnier, what has changed is railway station to Paan shop.
Although he is not being interrupted by passerby still Chand Nawab pulls off the act on his own. He fumbles his lines multiple times – all while still trying to stuff the paan into his mouth. The video has gone viral on the internet and some people have even appreciated it. Watch the video here:
Chand Nawab rocks yet again but this time not for 'apno mein Eid manane' pic.twitter.com/6mgBMrr5bT

— Fazil Jamili (@faziljamili) June 28, 2018
Senior Pakistan journalist Reham Khan also shared the video on her Twitter handle. "I love the Karachi heavily accented Urdu & paan too. Surely Karachites know best how to pronounce their city's name," she wrote.
Years back in 2008, Chand Nawab's video had gone widely viral where he was standing at a crowded railway station saying, "Karachi ke log – Eid.., Eid manane, manane- ke liye… " but wasn't able to finish the line because of continuous pushing by people.
Also read: Akash Ambani-Shloka engagement: Nita Ambani's dance to Isha welcoming her bhabhi, here are all the videos from the grand engagement