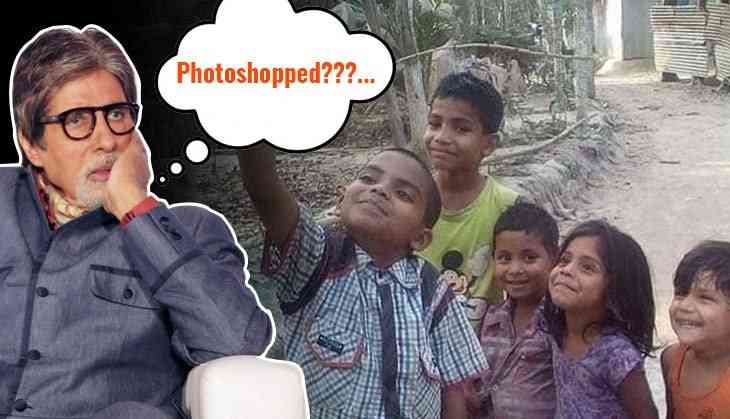 Selfie mania among the people has been increased as the technology increases day-by-day. People used to click pictures anywhere and at any time wherever they want. Also, the craze to share their pictures on social media is also high. There were several beautiful pictures which have won the hearts of millions of people.

Likewise, another selfie of children is getting viral which has also grabbed the attention of Bollywood celebrities.

Here we are talking about the selfie of five children who are clicking their picture while holding a slipper instead of mobile phone.

Boman Irani has also shared an image on Instagram and wrote, 'You're only as happy as you choose to be.'

There is no doubt that the picture has really won the hearts of netizens also and everyone started sharing and liking the picture. Even our B-town celebs like Anupam Kher, Suniel Shetty and Atul Kasbekar, all have touched with the innocent picture. Also, the image has been shared on social media as #PictureOfTheDay and #Innocence to describe it.

Have you seen the image about which we are talking?

See the image:

No data to display.

However, Bollywood's Shahenshah, Amitabh Bachchan has found the mistake in this cutest picture on the Internet.

Here's what he wrote:

'with due respect and apology .. I feel this is photoshopped .. notice that the hand that holds the chappal is different than the rest of his body in size .. to his other hand by his side !!'
.. with due respect and apology .. i feel this is photoshopped .. notice that the hand that holds the chappal is different than the rest of his body in size .. to his other hand by his side !!

— Amitabh Bachchan (@SrBachchan) February 3, 2019
After Amitabh Bachchan tweeted about the error, many netizens agreed with him while some not.
Have a look at the reactions:
Ya..sir ..right hand thumb is missing

— DR.MILIND ZADE (@DrMilindZade) February 3, 2019
Yups...True sir...this is Photoshopped

— Sաɛta Pʀasaɖ ɛʄ™ (@SwetaLoveAB) February 3, 2019
Amitabh sir yes its true

— D nation (@fantastic_rogue) February 4, 2019
You are right sir... This is 100 percent Photoshoped.... Lens perspective doesn't apply to one block of picture...

— Saghar Khayyami (@sagharkhayyami) February 4, 2019
While many taught him the lesson about the pic.
Check out:
It is not photoshopped. The hand that holds the chappel as the camera is that of the boy. Amirabji, check your eye sight.

— Devaraju (@veevaraju6) February 4, 2019
Budhi aankhen ni judge kr payi sir age ho gyi hai aapki but you are a legend though no one can match u

— Mihirshekhar (@Mihirshekhar4) February 4, 2019
It's real and chappal belong to middle boy rt.foot,1st from Lt. Holding at rt.hand and his thumb at the planter aspect of the chappal rt.index finger at the place of great toe. Chappal and it.hand are more near to camera then rest of things

— Mahaveer (@Mahavee61417095) February 4, 2019