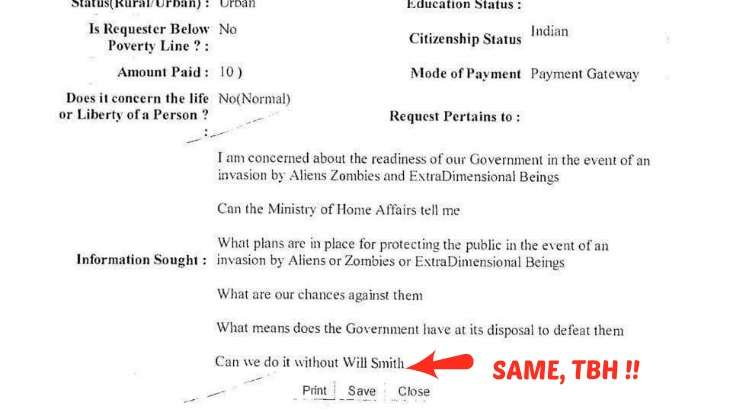 The night is dark and full of terrors for this Mumbai resident.
Ajay Kumar has filed an RTI application which has gone viral. As was perhaps his objective. The Mumbaikar exercised his Right to Information by checking with the government if they have a plan of attack in case of a zombie apocalypse or an extra terrestrial invasion.
A valid query considering strange things happen everyday. Human do seem just a shady pill away from transitioning into zombies if you ask us.
"What are our chances again them?" Ajay asks of our government. "What means does the government have at its disposal to defeat them?.. Can we do it without Will Smith?"
The last bit is what was troubling us as well, if truth be told. Sure Will has a long and healthy relationship with ET and their ilk, but must we really seek his help? What about Make in India, then?
Once the viral RTI had picked up steam, Union Minister of State for Home Affairs, Kiren Rijiju jumped into the discussion and shot it down with his typical no-nonsense talk. The one thing that everyone needs to note in Rijiju's reply is this: "the subject matter is too scientific". #LOLwut
The subject matter is too scientific.
This kind of RTIs will waste the precious time of the office staffs. pic.twitter.com/gVWbqt53PY

— Kiren Rijiju (@KirenRijiju) September 21, 2016