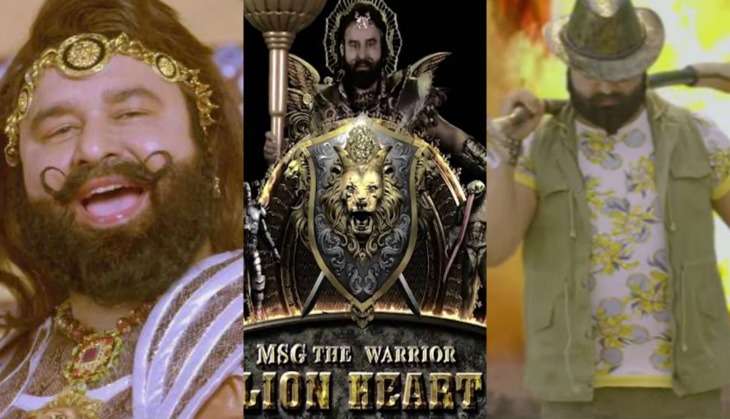 On Pretentious Movie Reviews, Biswa Kalyan Nath and Kanan Gill once described Main Prem Ki Diwani Hoon as 'more acting per unit area ever'. Going by that logic, the trailer of MSG the Warrior - Lion Heart is a prime candidate for more non-acting per unit area ever.
From the conspicuously-wobbly and misshapen wigs to the spaceships with Diwali lights, everything and everyone in this film(?) seems to be going for the overkill.
You know a film is destined for great things when a knight decked in bling rides into the frame on a milky white horse. The knight proceeds to shoot the bad guys and blow up their cars and guns into oblivion within a fraction of a second. Because MSG.
Unless you've been living under a rock, you know by now that MSG The Warrior is the self-styled godman's third feature film after MSG: Messenger of God and MSG-2:The Messenger.
Like the first two films, the trailer of Lion Heart is as unforgettable as its hero, director, dialogue writer, scriptwriter, costume and set designer, singer and everything else in between: Gurmeet Ram Rahim Singh Insaan, the chief of the Dera Sacha Sauda sect.
The trailer also reveals the plot of the film in its entirety. The bearded messenger of God is a secret spy in the first few seconds. A spy so powerful that even aliens dressed in disco lights in a galaxy far, far away want to get rid of him.
Somewhere between the alien sequence and your jaw dropping on the floor - Ram Rahim is crowned king. Not just any king, mind you, but one that dresses like a rainbow, gets his legs massaged by his wife and fights elephants in VFX so shady, it makes Chandrakanta look real.
Towards the end of the trailer, our hero travels into the past to bring back weapons which will counter the futuristic gadgets of the aliens. Because a white-bearded babaji told him to do so.
The premise is pretty much the same as MSG's first two films - save the world using mind-numbingly fake looking weapons, gadgets, cars, while spouting proverbs dialogues borrowed from CBSE Hindi textbooks. Not to mention that he does all this while wearing clothes that will make you feel better about your most embarrassing photos from your school fancy dress competition days.
However, what makes Lion Heart different from the other two abominations is that Gurmeet Ram Rahim Singh Insaan's arms are waxed to perfection in this film. Gone is all the body hair that should have essentially received a mention in the credits of the last two films for playing such a voluminous role.
Watch: