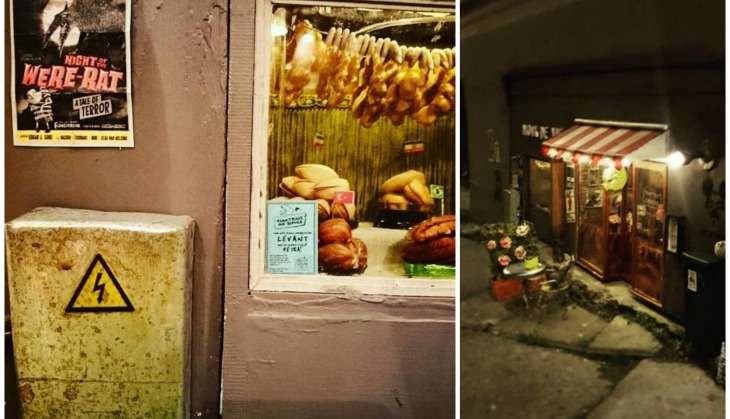 If there is anything Ratatouille taught humans everywhere, it is that rats are people too. Complete with feelings, ambition and needs in case you were wondering.
In the wake of this realisation, this initiative by a group of Swedish artists, Anonymouse MMX, in the city of Malmo will seem like an excellent idea that was waiting to happen.
Anonymouse, much to the delight of the internet, and perhaps maybe the horror of their local municipal corporation decided to take the upliftment and development of the rodents in the city into their own hands. And they began with the thing that makes most living beings happy - food.
Anonymouse set up tiny basement cheese and cracker pop-up cafes - that too with French windows and glass art, rickety chairs and mood-lighting. These 'shops' are located in the Mollevangen neighbourhood of Malmo, Sweden.
Anonymouse - not to be confused with the online hacker/privacy control community - spoke to Huffington Post (anonymously) and explained the need to make Mice Great Again:
"The idea was to use things mice themselves could have collected and reused... They (the cafes) are built of things that we had laying around and also things we collected, like caps, lids from tin cans, matches, buttons, a lamp shade, Italian stamps etc..."
The cafes are not open for business however.
"The nuts are real but the store is closed at the moment, so unless the mice possess some kind of lockpicking talent we doubt they'll get it," the artists told HuffPo.
Wait, wait. They have an explanation for this seemingly cruel behaviour: "The idea is.. to stick around until someone breaks them, and for them to become an organic part of the city. Already people have started to interact with them... Someone has baked miniature buns and posters have been added to the scenery."
#Okaythen.
Sweden, you've either stumbled upon the world's cutest idea, or a possible epidemic.