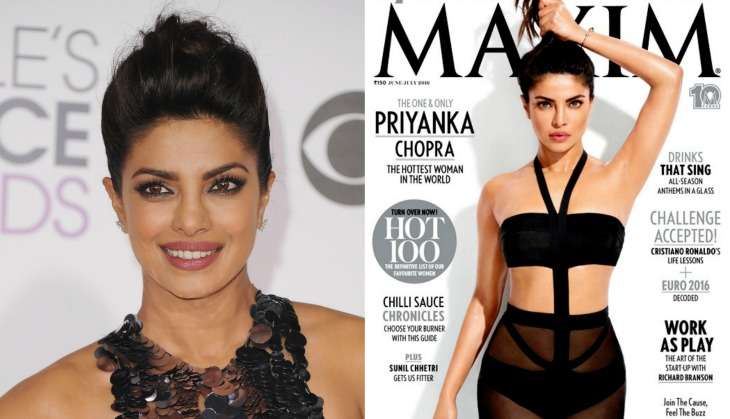 Priyanka Chopra is gorgeous. Personal likes and dislikes aside, THAT bit is definitely not debatable.
The Indian skin-tone mostly ranges from wheatish to dusky to dark, and that's gorgeous too. Personal idiocy aside, that bit is not debatable either. So when a famously dusky actress - who has conquered home ground and is in the process of doing so abroad - is Photoshopped to almost -peach, it begs the question: why, bro?
Where was the need to whitewash so mercilessly? Why was Chopra's natural skin colour not considered okay to be on your cover, Maxim India? Is unfair not lovely?
The relationship between Photoshop and magazine covers is almost as evolved as Edward and Bella's in Twilight. Deeply disturbing and widely disapproved. Judgment, criticism, anger, backlash, boycott - nothing has shaken their resolve to stick with each other and nobody can understand why.
In recent times, several celebrities have spoken out against rampant Photoshopping. Magazines have been known to either blatantly use the image correcting tool to lighten their skin tone, make them look slimmer or both.
PC on Maxim's 2013 cover vs her Grammy 2015 appearance
Disney star Zendaya, Scandal's Kerry Washington, Keira Knightly, pop star Meghan Trainor have openly spoken about their struggle, refusing to be body-shamed or accept the racism. Strangely, Indian celebrities have largely refused to speak up, or even talk about Photoshop. Even more strangely, most media outlets don't seem to either care or think it's odd.
Yes, Priyanka looks beautiful, like a vision.. in real life she truly is. On this cover, however, it's just a heavily Photoshopped woman we see who has our PeeCee's face.
For shame, Maxim India. Where is Septa Unella where one needs her?
--
Edited by Aishwarya Yerra