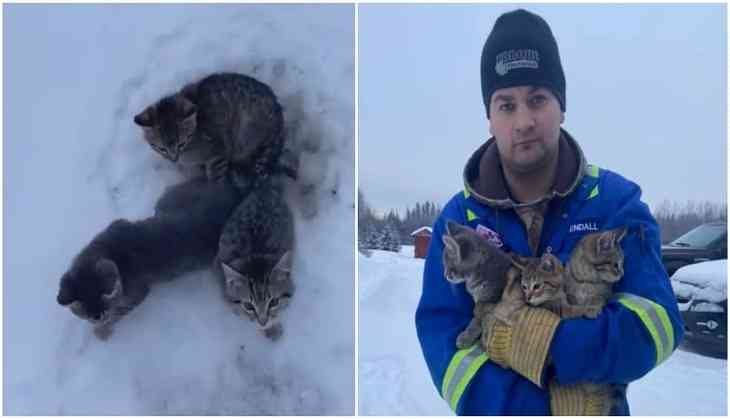 A man comes to rescue three kittens who were frozen to the ground. The video has surfaced the Internet in which the man used a cup of coffee to free the kittens whose tails were stuck to the ground for hours after being abandoned.
The incident took place near Tomahawk, in Alberta Canada. The man himself shared a heartwarming story on his Facebook account named Kendall Diwisch.
He captioned the video: "So today I found these three fellows on one of the back roads near one of my wells. Most likely dropped off. Poor things were frozen into the ice so they had to have been there all night. Took them home, fed and watered them they look to be healthy and friendly. If any friends are looking to have a new addition in their family, let us know as they will need homes. All three look to be males, and we also gave them dewormer."
In the video, kittens were seen struggling inside the ground and started meowing as Diwisch approached them. He poured a hot cup of coffee to free the tails of kittens from the ice.
As the video went viral, social media hailed the man for his kind gesture towards the kittens.
"Forget superman, you're a real hero! Thank you so much for rescuing the little sweethearts. Fate in humanity (a bit) restored," a user wrote.
Another user commented, "You sir are my hero and an angel. How beautiful a soul you are! Made me cry tears of joy that you rescued those beautiful kitties! What a heart you have, I have a new found hope for humanity!"
Also Read: Awwdorable! Toddler eats ice cream for the first time; her reaction will make you laugh