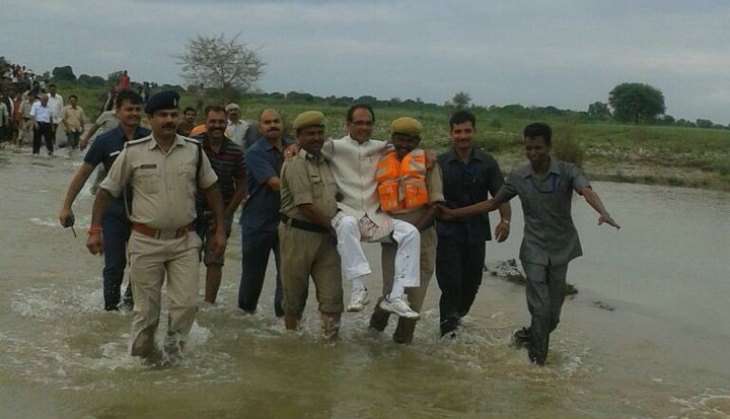 Madhya Pradesh Chief Minister Shivraj Singh Chouhan is a simple man. While visiting the flood-hit districts of his state, all he wanted to do was to meet people and understand their pain.
On one such day in Amanganj Tehsil in Panna, the CM attempted a live demo of how rescue operations in such situations work. Naturally, Chouhan then asked his aides to carry him. Naturally.
Also, what else is a man to do if he wears expensive white shoes to a flood-hit area? Get them wet and damage them forever?
As expected, the photo has gone viral. Another photo that has grabbed the attention of social media users is one where Chouhan can be seen walking barefoot, while one of his aide's carries his shoes.
The official word on the incident says that the CM was only carried over the ankle-deep waterbecause the police and the area collector didn't trust the local pebbles and snakes to leave the CM unhurt.
Twitter's still choking over the incident obviously.
आज कल पांव जमीन पर नहीं पडते मेरे..
😂😂😂😂😂😂
#ShivrajSinghChouhan pic.twitter.com/6k21VtGeva

— ankit soni (@ankitso98500586) August 22, 2016
Volunteers carrying a clay-made idol of Shri Shivraj Singh Chauhan for visarjan pic.twitter.com/y1jj9taFTo

— Rohit (@N_two_O) August 21, 2016
Shivraj Singh Chauhan- Winner of Gold Medal in FLOOD OLYMPICS being carried by his coaches for Victory Lap!! pic.twitter.com/v6CPgsdRHc

— Rosy (@rose_k01) August 21, 2016
#Shivraj training Indian athletes for 400M Relay 2020 Olympics..@Atheist_Krishna @ExSecular @desh_bhkt @MrStark__ pic.twitter.com/QaDivCIkXV

— झंगोर्या बोलणू छौं (@YepadiBaika) August 21, 2016
The original #FlyingJatt#ShivrajSinghChouhan pic.twitter.com/Rcflv6LT8a

— यशिका (@MadameYG) August 21, 2016
#ShivrajSinghChouhan is now first flood affected CM he was rescued in 6 inches of water to save his shoes and clothes

— omkar nath giri (@omkargiri) August 22, 2016
And this is released by CM saab's PRO! Someone pls give the guy a medal! #ShivrajSinghChouhan pic.twitter.com/p0QYqv5ejz

— Sherine Elizabeth (@SherineElizabe2) August 22, 2016
When your juniors have had enough of your crap and they decide to do your visarjan. #ShivrajSinghChouhan pic.twitter.com/hZ4yyFS21L

— Deep Chhabria (@deepchhabria) August 22, 2016
A Sikkimese woman carrying a British man on her back, circa 1900 while MP CM #ShivrajSinghChouhan in 2016 @BBCHindi pic.twitter.com/cICiKAvUqJ

— Nitin Srivastava (@TweetNitinS) August 22, 2016