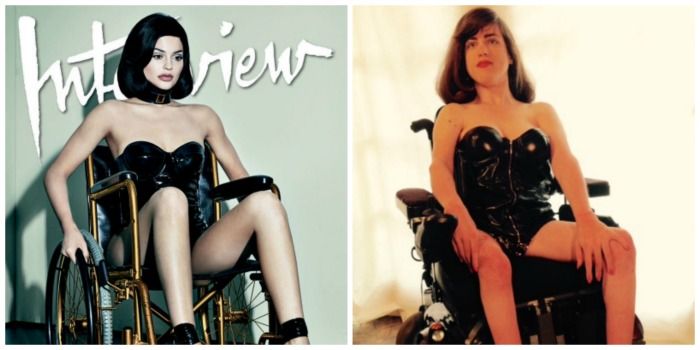 Everyone knows how much the Kardashian family loves the camera. Ever since Keeping With the Kardashians was unleashed upon the world, we've all been forced to deal with what Cosmopolitan calls 'America's First Family'.
Also read: 10 times Donald Trump proved nobody can beat him at stupidity
But this article isn't about the life and times of the Kardashians. This is about how this woman's recreation of the Interview photo shoot by the youngest Kardashian, is everything.
Blogger Erin Tatum, 24, who according to Mic, suffers from cerebral palsy recreated the controversial wheelchair shoot to show Kylie what being disabled actually looks like.
Posting on her Tumblr blog,
petitetimidgay
, she wrote:
'I tried my best to create a more authentic version of Kylie Jenner's Interview cover, given that I'm, you know, actually disabled and a real life wheelchair user.
I can barely get people to make eye contact with me, let alone land a cover shoot. If being in a wheelchair is trendy now, I've apparently been a trendsetter since before Kylie was born.'
Needless to say, Erin slays in this version of the shoot. And we're definitely not missing the layers of doll-like makeup, and the obvious Photoshop used in the original.
Also read: #VaginaDress is freaking people out. But here's what's truly scary
For those who're not aware of the nature of 18-year-old Kylie's Interview photoshoot with photographer Steven Klein, the pictures have a bondage-dominatrix feel to them.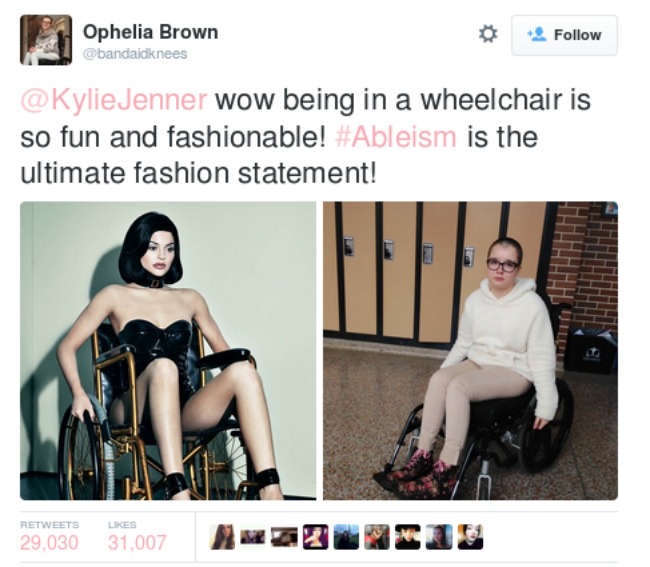 The photoshoot drew outrage for its depiction of the wheelchair as either a restrictive device or a fashion statement and have responded with their own versions of what the shoot should have looked like.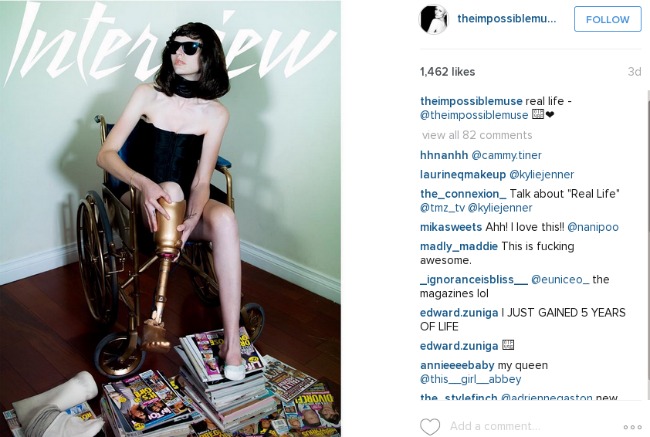 While the freedom of artistic expression is important, there's absolutely nothing artistic about Kylie's photoshoot.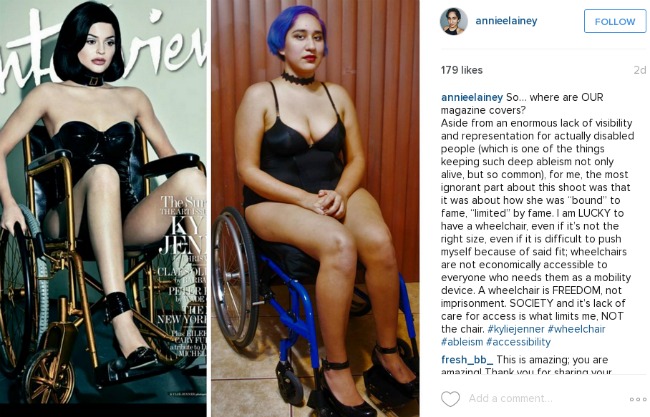 After blackface and cornrows, are we now appropriating wheelchairs, Kylie? Save us something to outrage about for 2016.