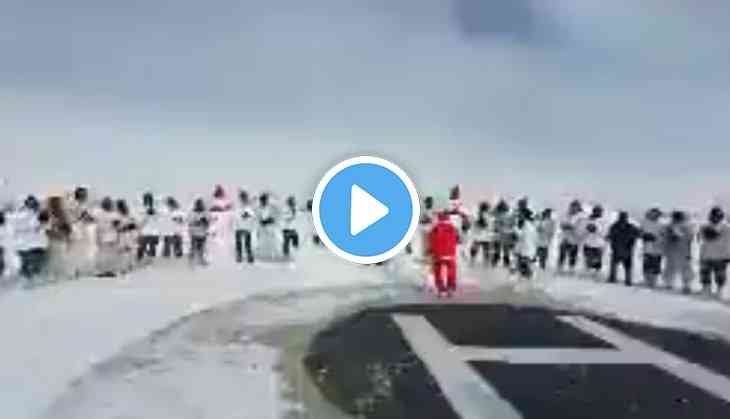 Christmas celebrations have already started across the world and people have started sharing their videos and photos of celebrations on social media. One such heartwarming video of Christmas celebration has surfaced the Internet in which Indian soldiers were singing Christmas carol jingle bell altogether.
The video is winning the hearts of netizens after seeing the Indian personnel enjoying the festival while doing their duty for the nation. In the video, a group of more than 30 soldiers singing the Christmas carol with merry and joy in heavily snow-clad area. They were clapping and grooving to the beats of the carol.
The endearing video also showed the Christmas tree decoration and also a person donned as Santa Claus gave a vibe of the festival.
Celebrations at Line of Control in Kashmir made the day of netizens.
Check out how armymen celebrate Christmas:
#WATCH Jawans celebrate Christmas on the Line of Control in Kashmir. (Source - Indian Army) pic.twitter.com/3Msg6s82iO

— ANI (@ANI) December 25, 2019
Internet users have shared their gratitude to Indian soldiers for their immense to the country.
The video has widely shared by users on social media.
Here's what Twitterati wrote for Indian Soldiers:
Powerful celebration

— S Ravikumar (@raveekumarz) December 25, 2019
Salute n Merry Christmas 🙏🙏

— Only Human (@tabassum_aamna) December 25, 2019
Actual Secularism is found only in Indian Army👍

— Sanjeev Sinha (@SanjeevSinha_) December 25, 2019
I salute them

— Egorov (@absurd_bouy) December 25, 2019
Wishing all our soldiers on LOC and IB a merry Christmas & A great and Happy New Year.....🙏🙏 Jai Hind

— Rajnesh Yadav (@RYwestin) December 25, 2019
God is one ! Praise the Lord Jesus Christ!

— Hari Shankar Singh Kandari 🇮🇳 (@hsskindia) December 25, 2019
Meanwhile, the video has garnered over 14k views and over 1k likes on Twitter.
Do you like the celebrations of Indian soldiers?