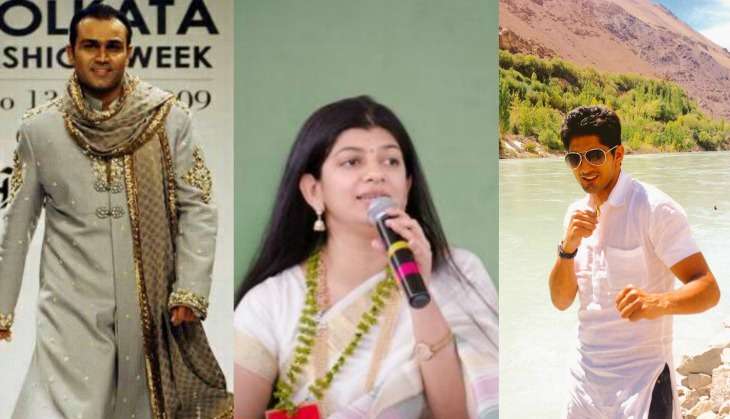 If there is one thing Smriti Irani, the brand new Minister of Textiles has down pat, it is social media. She is second only to Minister of External Affairs of India, Sushma Swaraj, who has already been established as the reigning queen of Twitter.
Last night, the Union Cabinet Minister started a trend that has filled everybody's timelines with gorgeous photos of Indian handloom.
What the hashtag proves irrefutably that be it sportspersons or ministers or the mango people - pretty much everyone (who can afford it) loves handloom.
The 'movement' was started in a bid to encourage the sales of local craft and perhaps also to reassure the weavers and craftsmen that industrialisation hasn't completely taken over the market. A much needed encouragement if we may say so.
Wearing a beautiful silk saree from Bihar, Smriti Irani urged her followers to share photos of their prized handloom goodies with the hashtag #IWearHandloom.
She also asked that five others be tagged in the photo shared and so on to set the trend rolling. She herself tagged only four however: Puducherry Lieutenant Governor Kiran Bedi, Anandiben Patel (who had earlier in the day resigned from her post of Gujarat Chief Minister), Maharashtra CM Devendra Fadnavis and Madhya Pradesh CM Shivraj Singh Chouhan.
Check out some of the beautiful entries here:
I support Indian weavers, here's my #IWearHandloom look - Handwoven Silk from Bihar. Share your look & tag 5 people pic.twitter.com/1NOuueJ0mS

— Smriti Z Irani (@smritiirani) August 1, 2016
#IWearHandloom everyday! It's a matter of pride wear a piece of our tradition that is so adaptable to everyday life! pic.twitter.com/To6GkFcS7i

— Jaina Desai (@jainajgd) August 1, 2016
#IwearHandloom as any handwoven & handspun Khadi or handloom fabrics made out of cotton, silk or woolen are the best pic.twitter.com/pbYEz56XcE

— Kiren Rijiju (@KirenRijiju) August 1, 2016
Wearing Handloom makes u feel free&gives livelihood to our weavers
Handloom pehno,ekdum Free Ho jaao!#IWearHandloom pic.twitter.com/u3L2qfyL5o

— Virender Sehwag (@virendersehwag) August 1, 2016
Wonderful initiative @smritiirani ji #IWearHandloom because it's one of the best representation of our culture pic.twitter.com/E0fQKuGxEM

— Vijender Singh (@boxervijender) August 1, 2016
#IWearHandloom #support#Handloom #textile @MMalhotraworld @smritiirani pic.twitter.com/nhgOfMNMWs

— Manish Malhotra (@ManishMalhotra) August 1, 2016
Nice. Textile map of India. And innovative campaign by @smritiirani to popularise handloom #IWearHandloom pic.twitter.com/0NkAT32M60

— Rahul Kanwal (@rahulkanwal) August 1, 2016
Today's Odiya handloom!#IWearHandloom @TexMinIndia @smritiirani pic.twitter.com/9B9PXoBeoE

— Dr Sumita Misra IAS (@sumitamisra) August 2, 2016
#IWearHandloom @smritiirani @TexMinIndia. @sonamohapatra @vidya_balan @Jayajaitly @SallyHolkar @TheFDCI #SunilSethi pic.twitter.com/L43yBq8Lpj

— VAISHALI S (@vaishalivs) August 2, 2016
Have to promote a #IWearHandloom look from the Mothership ..... a Settu-Mundu look coz it's simple and elegant pic.twitter.com/gYOdOnKWfG

— Greeshma (@opsimath6) August 2, 2016
#IWearHandloom @smritiirani mam, splendid initiative! Hail our weavers! Only it's them who make us feel beautiful! pic.twitter.com/Ap0GxHdORf

— Poornima Abhijeet (@poornimabhi) August 2, 2016
@Divyanie your #IWearHandloom look will go a long way in supporting the weaver community in India. pic.twitter.com/L3yrC5W5KF

— Ministry of Textiles (@TexMinIndia) August 2, 2016
--
Edited by Abha Srivastava