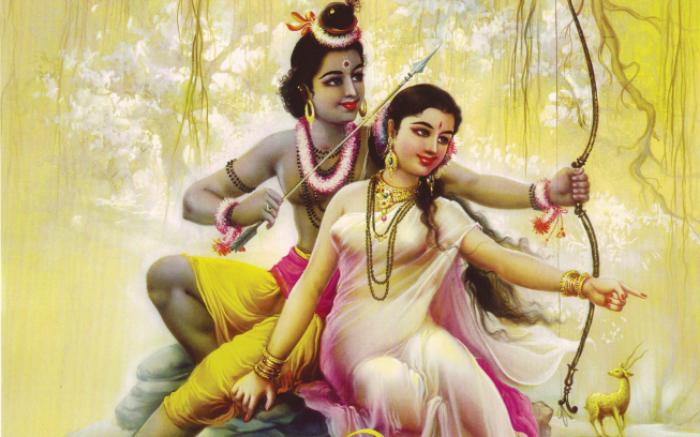 In November 2015, over three crore cases were reported to be pending in courts across India.
In February 2016, we've managed to push all of them away to hear a case against Lord Ram, the former king of Ayodhya.
The chief judicial magistrate will hear a petition filed by lawyer Thakur Chandan Singh in Sitamarhi, Bihar, citing the cruelty meted out to Sita by her husband. The petition declares that post her abduction by Ravana and the subsequent rescue, Lord Ram had banished Sita to a life in the wild without sufficient justification. Despite having had to undergo an agnipariksha, the complainant is deeply disturbed that Sita along with her sons Luv and Kush were exiled to the jungle.
According to a report in the Hindustan Times, Thakur Chandan has this to say about the case:
"The Devi was exiled (given 'vanvasa') for no fault of hers. It was a hypocritical order from king Rama. How can a man become so cruel to his wife that he sends her off to live in a forest? Lord Rama did not think for a single moment how a woman could live alone amid wild animals, including reptiles and mammals, in the forest."
Sound logic. Truly. #InsertSlowClap
But to have filed a case against someone who'd be unable to either show up in court or in favour of the 'ideal wife' who would equally be unable to fight is pretty weird.
In case the complainant 'wins the case', what happens? Who gets punished? What purpose does this petition serve? That's the question that's making Twitter's head spin right now.
smone filed a case against Lord Ram for abandoning Sita..We should now force Modi govt to declassify the secret files on The Kurukshetra War

- Paresh Rawal (@Babu_Bhaiyaa) February 1, 2016
100 of 1000s of cases pending in the Indian courts and they took up a case against lord Ram ! How can a sane person respect judiciary ?

- Proud Bhaqt (@ExSecular) February 1, 2016
After Lord Ram, Hanuman ji being questioned for Visa violations with regard to sri lanka tour to meet Mata Sita by air. Caee by Airlines 😜

- Ishwar Saini (@rathaursaini) February 1, 2016
Case on Lord Ram. This is what happens when you take movies like Oh My God too seriously. 😂

- Fakalogy (@Fakalogic) February 1, 2016
Case filed against Lord Ram, What Next? Sri-lanka will appeal to UN Human Rights for their King Ravana and his huge Sena.

- Anshul Saxena (@AskAnshul) February 1, 2016
Judge: Aapko 14 saal ki saza...Lord Ram (cut his short): Not again!

- NumbYaar (@NumbYaar) February 1, 2016
Anyway, if this Lord Ram case goes to court, it will be fun. For the first time, the judge will be calling the accused - My Lord.

- Ramesh Srivats (@rameshsrivats) February 1, 2016