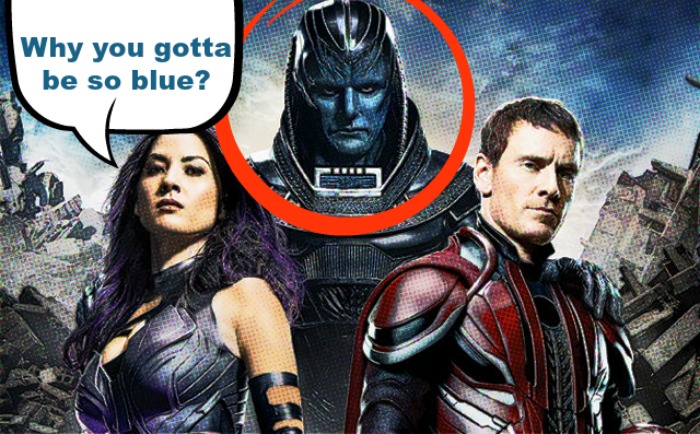 Is there anything that doesn't offend us anymore? Also do we want the entire world to adhere to our extensive this-is-offensive list?
In case you're a superhero fan, you've probably seen the trailer of the upcoming mutant flick, X-Men: Apocalypse. The long-awaited trailer shows the world being torn apart by the blue-bodied Apocalypse, while Charles Xavier and the X-Men battle to save the planet. The trailer's much more exciting than how that sounds, we assure you. We've seen James McAvoy, Jennifer Lawrence, Michael Fassbender fight it out before, so what's the catch here you ask? Oscar Isaac. The man who plays the deep-baritoned, blue-bodied, super-bulky, all-powerful Apocalypse. Is he the villain we've all been waiting for? Perhaps. But for now he's the villain who's offending the all too touchy Hindu leaders. Apocalypse introduces himself with: "I have been called many things over many lifetimes - Ra, Krishna, Yahweh..."; mortally offending leaders such as Rajan Zed. For those not in the know (like we were) Rajan is a self-styled "religious statesman who has taken up Hindu, interfaith, religion, environment, European Roma (Gypsies) and other causes all over the world."
Comparing #Krishna to villain #Apocalypse in #XMenApocalypse trailer was inappropriate. Delete references to Krishna unless scripture based.

- Rajan Zed (@rajanzed) December 15, 2015
According to a statement released, "Lord Krishna was meant to be worshipped in temples or home shrines, not for pushing movies for the mercantile greed of filmmakers. The inappropriate usage of Hindu deities or concepts for commercial or other agenda is not okay. This is another example of the poor use of Hinduism culture in Hollywood." Watch the trailer here: Okay then. While we cannot seem to find even an iota of anything offensive here, maybe our radar's off. Whether Bryan Singer takes note of these offended souls or not remains to be seen, we're are mildly shocked and quite a bit amazed that religious leaders follow what's happening in the world of mutants too. #WhatILearnedToday In the meantime, we're going to go and shed tears in the sad corner because we desperately miss this man.