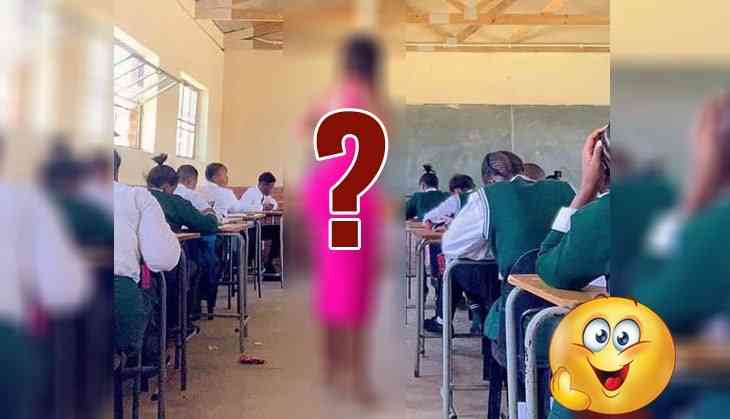 Every profession has its own way of dressing style and also there are some etiquettes, ethics for them, which they have to follow during their working hours. Especially, teachers are the one who has to follow al the guidelines because of what and how they behave with their students, they will also follow them in their life too.
It is quite natural that students love, admire and respect their teachers not only because of their behaviour but also for the way they presented themselves. It doesn't matter whether a teacher is beautiful, smart or not. Students often called their teachers an inspiration for them.
Besides, teachers also have to follow a dress code like saree or suit for female teachers and pant-shirt for male teachers.
Recently, a teacher from South Africa, who has apparently grabbed the attention not only of her students but also the social media users.
Teacher Lulu Menziwa has made quite a bit of news for not following the school's so-called formal strict dress code.
Here pictures have been shared on the micro-blogging site by a user named Lufuno Mathoni who has questioned about the position of Lulu in the department. He even tagged Gauteng Education MEC Panyaza Lesufi.
@Lesufi your making it hard for our kids to pass sir. pic.twitter.com/0fuVEmPnLq

— Lufuno mathoni (@funimamie) February 5, 2019
However, very soon this tweet went viral on social media and received miscellaneous reactions from the netizens.
Check out Twitterati reactions:
Why shld kids wear uniform if teachers are dressed as if they r going to a club? Its a formal profession n needs formal presentable clothes, u can show off yo fency torn jeans n bling to yo peers over da wknd, impressing kids is a sign of being twisted

— Spider from Mars! (@kruder69) February 5, 2019
There is nothing wrong with what this woman is wearing. We live in a society where men just sexualize women for no valid reasons. This needs to stop its annoying mos👎🏽😡🥵🤬

— Thabile Zuma (@thabile_zuma) February 5, 2019
She has great style, and I'm not policing another woman but this is inappropriate.

— sɔɐɐsı ǝuuʎן-zzoᴚ🇿🇦 (@Rozz_lynne) February 5, 2019
It is honestly disturbing. Lapho she just has a nice body and she is dressed appropriate for work. These men should be ashamed man, Ngeke sizwe ngabo. Can we be allowed to look nice without being sexualised? Abakahle laba😡

— Thabile Zuma (@thabile_zuma) February 5, 2019
It's education swag. School kids must know that you can still be clean, dress well and be good looking. By not having income via twitter brand endorsements.We need more of this. If possible our teachers must try get permission to earn extra income so they can buy luxury cars also

— Rammetse (@masiphos) February 5, 2019
Fixed! pic.twitter.com/M89ms8Yffz

— Deelee Mogale (@Deeleenquent) February 5, 2019
Even she was given suncity woman's clothes she will still rock it cos her body Rocks 😃😃

— C.D.Ngubane (@DexSomahash) February 5, 2019
Oh please...she is gorgoeus and who said teachers shouldn't have stunning bodies. I had teachers like this too. Gorgeous and intelligent. And I bet you had one you adored and motivated your 100% attendance.

— IamCaptain #ThatGuy (@IamCaptainLebo) February 5, 2019
What do you think about this teacher's dressing style?
Also read: This TikTok tune has brought Internet by storm and will also motivate you to make a video; see viral videos