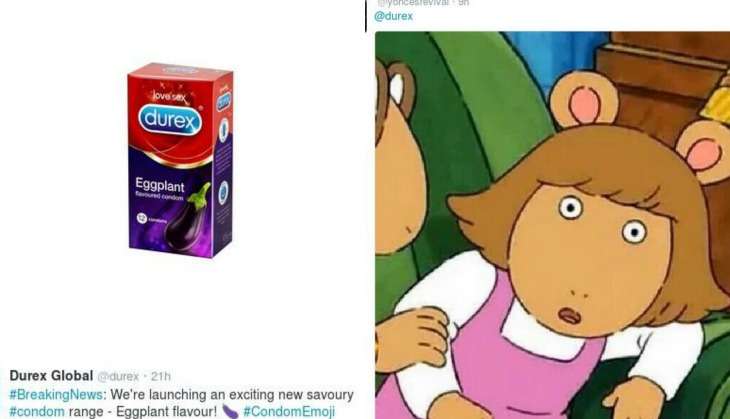 Whether or not Durex seriously considered an eggplant-flavoured condom will go down in history as a Twitter-fuelled mystery. What we do know, however, is that for now, the condom manufacturers have turned their earlier 'announcement' into a public gag. Metaphorically speaking.
On Tuesday evening, Durex sent out a cheerful tweet welcoming an eggplant-flavoured condom to its 6000+ followers on Twitter.
.@durex hi guys, just a quick one. How have you prepared and cooked the aubergine? Thanks.

— Josh Barrie (@joshbythesea) September 5, 2016
@durex Now I am just waiting for Baba Ramdev to launch Patanjali Jadibuti condom

— Clash with Vegeta (@GamerVegetaYT) September 5, 2016
.@durex pic.twitter.com/7GhuRbbmbh

— 💀 (@ryxnf) September 5, 2016
#BreakingNews: We're launching an exciting new savoury #condom range - Eggplant flavour! 🍆 #CondomEmoji pic.twitter.com/idA07EaiXC

— Durex Global (@durex) September 5, 2016
An enthusiasm that was largely shot down by a hyperventilating crowd - most of whom cracked the same 'baingan ka bharta' joke. Either it really, truly was a prank that got Durex much free publicity or it was a serious announcement that backfired and was turned into a request for a condom emoji.
You got us, there's no Eggplant condom! But why no #CondomEmoji? RT if you agree emoji makers should make one! pic.twitter.com/6H6AU6zkJ6

— Durex Global (@durex) September 5, 2016
For those out of the loop of millennial small talk - an eggplant in emoji-world is not a vegetable but a penis. So eggplant condom wasn't as random a move as some of the tweets would have you believe.
As for Durex's request for a condom emoji (condoji? condomoji?), we say about time. There is no such thing as too much precaution anyway, right? So take away the jaundiced yellow hearts, and give us condomoji instead.
Also Twitter, could you please relax?
@durex For when you don't want your egg planted.

— Cynical Bathtub (@cynical_bathtub) September 5, 2016
"They see me baingan, they hatin'"

- Durex

— Accidenteshwari (@accidenteshwari) September 5, 2016
Baingan-flavoured condom? #Durex ne toh sex ka bharta bana diya. Praying it's not paneer next https://t.co/ed8jESeUSk

— Abhijit Majumder (@abhijitmajumder) September 5, 2016
TL right now-
Women talking about heartbreaks and love.
Men talking about flavored baingan Durex.

— Girl, uninterrupted (@Bookwiser) September 5, 2016
Durex has made it comfortable for Indian women to go and ask for condoms at chemists!

"Bhaiyya ek dozen Baingan dena"#win

— Neil Sanghavi (@NeilSanghavi) September 6, 2016
@durex was about to give new meaning to 'bharela baingan' with #auberginecondoms.
Phew!

— Priyanka Menon (@priyanka_sme) September 6, 2016
Pls launch cucumber flavour too. Thanks. https://t.co/ONulkrKbhQ

— Lola Kuttiamma (@Priya_Menon) September 5, 2016
Guy at chemist : give me Aubergine condoms
Bengali chemist: Sir,We don't have separate condoms for Bhergins https://t.co/f4g1pdShUp

— Abhishek Upadhya (@_logik) September 5, 2016