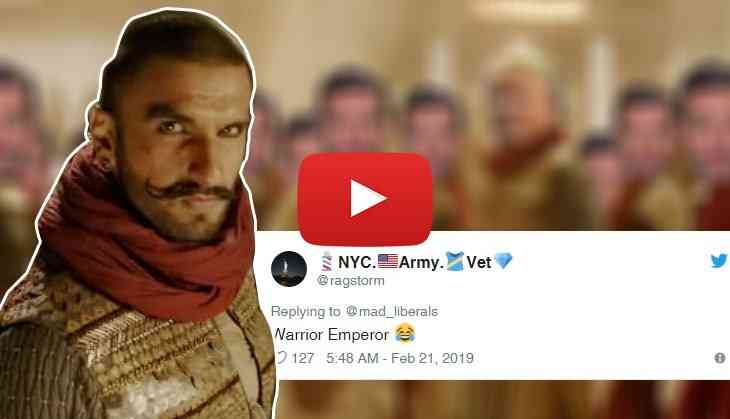 Just imagine US President Donald Trump dancing on Bollywood tracks! Think, if it is Ranveer Singh song, well, the fun will surely be double.
However, he has been seen shaking his legs several times with his wife Melania Trump on English tracks but, it will be hilarious to see him dancing on Hindi songs. Well, don't give much pressure to your mind as we are not going to allow you to imagine any more as we have brought his dance video for you.
We must thank our social media users who made this dream into reality and brought the Internet by storm. In the video, Trump can be seen dancing on Bajirao Mastani film hit song 'Malhari'.
US President has given a tough competition to Ranveer Singh.
Well, you don't believe us then, have a look at the video:


Peshwa Warrior Trump#DonaldTrump #MAGA pic.twitter.com/s9JOb5e7DR

— mad-liberals (@mad_liberals) February 20, 2019
Hope you understand that video has been photographed and the user has put Trump's face by cropping Ranveer Singh's face.
Our netizens loved this video and enjoyed a lot in watching the video.
Check out some reactions:
February 21, 2019
Serious love for our president!

— mad-liberals (@mad_liberals) February 21, 2019
Trump face is priceless! 😂

— Humberto from Texas (@HumbeGinesta) February 21, 2019
Superb editing. If you don't mind, the head could have been 80% of the current size.

— Vikash Bhattar (@vikash_bhattar) February 26, 2019
Bajirao Mastani

— mad-liberals (@mad_liberals) February 22, 2019
February 21, 2019
Well, this has really tickled our funny bones! What do you think?
Comment..
Also read: Blunder! Donald Trump pronounced Nepal as 'nipple' and Bhutan as 'button' and thought it was a part of India; see video