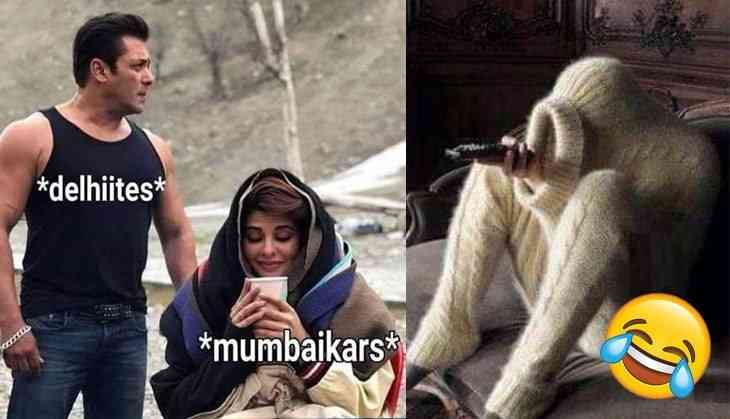 After a long time of wait for winters finally, the cold winds have arrived in the country and recently, Delhi has recorded its coldest day in December i.e. 23rd December in the past 12 years.
Due to the extreme cold in the city, our social media users have expressed their feelings in their different style.
Netizens have created hilarious memes on this bone-chilling winter and brought the Internet by storm.
As per the data from the Met department, the second lowest minimum temperature was recorded on 29th December 2007 at 3.9 degree Celsius.
Now, Delhiites have witnessed the lowest temperature at 3.7 degrees, on this netizens have found a different way to fight the cold that will make you burst into laughter.
Even, Twitterati didn't spare Salman Khan and Jacqueline Fernandez for cracking jokes.
Check out some hilarious viral memes on the micro-blogging site:
😂😂😂😭😭😭😂😂😂 pic.twitter.com/1LVlV5YxJH

— स्वाति 🇮🇳 (@singhaiswati09) December 18, 2018
Madrasi in Delhi 😭😭😭#DelhiWinters ☃️⛄☃️⛄ pic.twitter.com/SXVo6ptQmN

— RAVANAASURA (@Yavanigothu2) December 23, 2018
Pic 1 - online advert
Pic 2 - how it actually fits me pic.twitter.com/qOUVkEGA1d

— ShyaM (@FitPhilJones) December 22, 2018
#Delhi #Winters #nothinglikeanything pic.twitter.com/o1GkLTGGBw

— Supreet Kaur (@supreet_bakshi) December 22, 2018
Bandra East Vs. Bandra West pic.twitter.com/cJUahOiH24

— Godman Chikna (@Madan_Chikna) December 23, 2018
रोज का संघर्ष सिर्फ नार्थ वाले समझेंगे ये बात 😂😂😂#north #winters #dillikisardi #winteriscoming #delhi #funny #memes #trolls #desi #bakchodi #harami #bihar #madhyapradesh #delhi #rajasthan #udaipur #chandigarh #AssemblyElections2018 pic.twitter.com/SNVvvGXyUO

— Gangs Of North (@GangsOfNorth) December 11, 2018
Me all the year: I really want to see snow and mountains, lets go on trip guys.
Someone in winters: Bhai shimla chalega kya?
Me(inside my comfy blanket): pic.twitter.com/MkowV1V8IK

— Delhi University Memes (@DelhiUniMemes) December 23, 2018
Ok it's 3.2'c..❄️
I THINK am good !!
& Definitely COOL🌨️🌨️🌨️ pic.twitter.com/fBa0Fm0g4Q

— RADHIKA (@_biomechanic_) December 23, 2018
Hahahaha! We must say that Delhiites and Mumbaikars have given tough competition to each other with these funny memes.
What do you think?
Also read: Christmas Day Party Celebrations 2018: Looking for restaurants? Check out these cheap restaurants in your city that are offering Christmas buffets