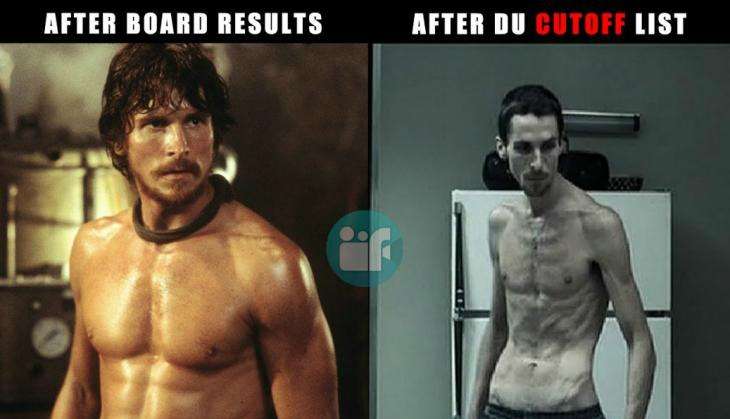 In ancient times, or so it feels, 90% and beyond was reserved for a chosen few who had been born under the correct alignment of the stars called Did-Nothing-But-Study-For-Months and Lady Luck.
For today's generation, however, there's no cap on how much you can score. With marks sounding more and more like Torrent download speed, it is hardly surprising. Delhi University's first list cut off marks have known to hit 100% so let's all be a teeny bit glad that they've condescended enough to come down to 99.25% (thanks, Ramjas). The generosity is astounding.
Over 2.5 lakh students have already applied for admission to the various colleges, which for obvious reasons, is amazing. These many students are eligible for these insane cut offs? This is probably giving past DU students an opportunity to appreciate their degrees that much more.
Passed graduation waaaaaay before DU turned into a student Terminator? Then you'll definitely chuckle through these:
Students burning their 12th mark sheet after seeing the #DelhiUniversity cut off list. pic.twitter.com/mZvqr1p4ut

— Rashi Kakkar (@rashi_kakkar) June 30, 2016
Even my body temperature is less than #DelhiUniversity cut off...😅

— Shashaank dayma (@Abhinav9747) June 30, 2016
After seeing first cut of #DelhiUniversity ... Every parent is : pic.twitter.com/lrjcwiK6F0

— Confused Soul (@Babla_bla_bla) June 30, 2016
#DelhiUniversity वालो CuttOff क्यूँ कहते हो, #FuckOff कह दिया करो |

— Donald Barack Trump (@IuvsaIimkhan) June 30, 2016
Why Cutoff, simply say F**K off :P! #Delhiuniversity
More fun on https://t.co/96zuV9RYhV#DUAdmissions pic.twitter.com/FYr6srYxDq

— Fizz (@watchfizz) June 30, 2016
#DelhiUniversity cut off is measured by Vernier Scale.

— Daringly Yours, (@DibakarParida) June 30, 2016
Pic 1: Mom after CBSE result.
Pic 2: Mom after #DelhiUniversity cut off . pic.twitter.com/cdcVrqL7Ir

— Super Commando Dhruv (@Eaglesiar) June 30, 2016
State of education in India:
Gujarat math toppers can't draw a triangle
UP toppers can't spell eight#DelhiUniversity has a 99.25% cut-off

— Raghav Chopra (@AarSee) June 30, 2016
#DelhiUniversity Helpline :
Me : Sir Ramjas ki cut off kitni h?
DU : 99.25
Me : And couple entry k liye?
*Blocked* 😂😂

— Saurabh Arora (@Saurabh_arora10) June 30, 2016
Students who dont get admissions in #DelhiUniversity... dont worry you have SHARDA, AMITY and LOVELY PROFESSIONAL UNIVERSITY..😁

— chaai-la :) (@Dnyaneshwar_pac) June 30, 2016
Who cares about #DelhiUniversity, when the world is at @ShardaUniversty 😆😃

— Roshni Chawla (@roshnirg66) June 30, 2016
Sharma Ji beating their son for not able to get through #DelhiUniversity cut off .😁 pic.twitter.com/gzOrFUnoVV

— Divyanshu (@jetsroy) June 30, 2016
--
Edited by Aishwarya Yerra