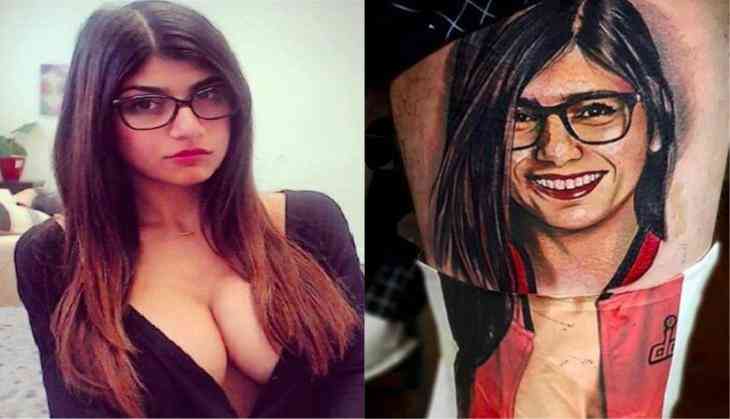 Popular pornstar Mia Khalifa is not only has a hot and sizzling body but a very hot head, yes all know how angry young woman Mia is and whenever things don't go her way she without fail hits the one hard. Well, Mia has loads of fan following and all thanks to her sizzling videos and photos that she keeps on sharing on the social media. Some of her crazy fans go out of the way to impress Mia and sometimes it hit her hard to trigger her angry woman inside her.
Shockingly, one of the crazy fans went to the extreme level and got Mia's face and chest tattoo on his body. He got her photos inked from a tattoo studio. When Mia came to know about this, she was super-angry.
Well, the tattoo artist tried well but the tattoo looked messi right from Mia's teeth to her specs were highlighted too much. And might be possible the porn star didn't like her assets being highlighted on someone else's body.
Mia slammed him by saying,
"STOP GETTING TATTOOS OF ME. This is not by any means flattering, it is OUTRIGHT CREEPY. Also, I had braces for way too long to accept that uneven picket fence you're calling a smile as decent work, my teeth are fucking perfect. Don't finish it, save your money and cover this up with a tribal symbol or some other trashy tattoo you obviously already have if you're willing to put A COMPLETE STRANGERS FACE ON YOUR BODY YOU PSYCHO. Jesus Christ."
No doubt, porn star's fan is super-happy with the results but Mia Khalifa is certainly not.
Also read: OMG! Frustrated Bengaluru techie ditches the bike and rides a horse to his last day at the office; video goes viral