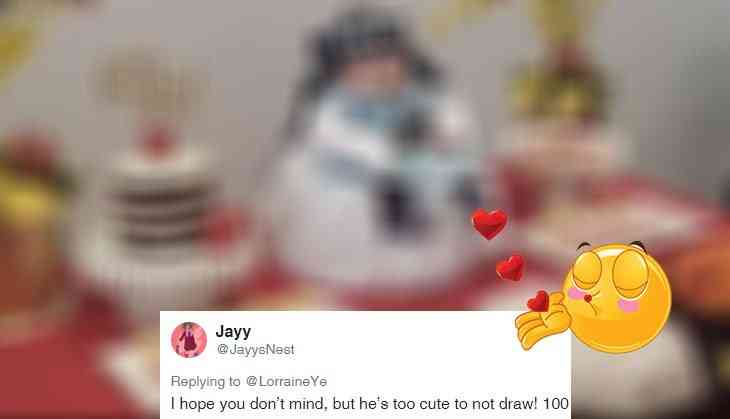 The Internet has filled with various sensations which have broken many records be it a Priya Prakash Varrier, Dancing Uncle or any famous celebrities. But, today, the image that we are going to show you is all set to break all the records of these big stars.
Well, it's a picture of a 100-day-old baby king who has become the favourite king of netizens.
This cutest king is from California named Elliot Noah Ye. His pictures went viral on the social media after his aunt has shared the two adorable pictures of this youngest king from Baek-il party.
Putting a light on Baek-il, is an important Korean tradition of celebrating the first 100 days of a child's life and undoubtedly, Noah is giving a tough competition to several kings and children of celebs.
For completing Noah's 100 days, the celebration was held in his honour.
Check out his awwdorable pics:
it was my nephew's 100 day and none of us were worthy pic.twitter.com/wGuYKNwERc

— lorr (@LorraineYe) February 10, 2019
all your love for emperor elliot has convinced us to give in to the demands of the people and as good servants of the council we must appease the people! tl;dr we made him an Instagram👶👶👶 https://t.co/VTeOEwlv3q pic.twitter.com/eH4ilJCPu8

— lorr (@LorraineYe) February 12, 2019
As soon as his pictures come to light, netizens go crazy and started giving their reactions.
Check out some reactions of Twitterati:
I hope you don't mind, but he's too cute to not draw! 100일 축하합니다! pic.twitter.com/39PC6wJLgX

— Jayy (@JayysNest) February 11, 2019
I love this multicultural celebration for our king

— Katie Racklyee-haw🌈 (@katie_racklyeft) February 11, 2019
he thinks he should have been viral sooner pic.twitter.com/XqmmP5wvUB

— lorr (@LorraineYe) February 11, 2019
your majesty pic.twitter.com/C5lgTEVdLF

— • (@mirzazsyahputra) February 11, 2019
However, the tweet collected over 4.6 lakh 'likes' and thousands of comments.
Isn't it this youngest king is super cute? What do you think?
Comment...