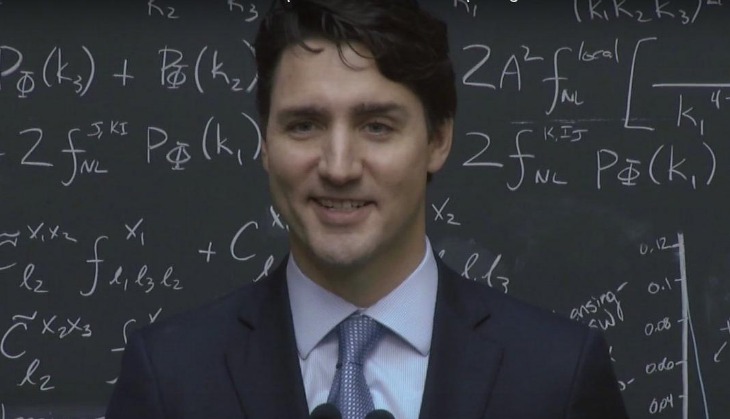 We've always suspected it. But Canadian Prime Minister Justin Trudeau has just confirmed it for once and for all. He is, indeed, perfect.
Last night, the internet dissolved in a pool of happy tears as they finally found a politician and world leader worth the hero-worship. 
A former boxer, a bhangra-champ, yogi-extraordinaire and a self-proclaimed feminist, it seems there is nothing Trudeau cannot do.
After video footage of the 44-year-old shutting down a journalist went viral, Twitter promptly lost its mind. The journalist in question attempted a flippant query about quantum computing before switching to a question about Canada's plans against the Islamic State ravaging Iraq and Syria. 
Without missing a beat, the Prime Minister answered the journalist's question about quantum computing first, before taking on the question on counter-terrorism. While his response got him a standing ovation from those present in the audience, the internet is now officially fangirling over Trudeau.
He finished off his 'masterclass' with a slightly intimidating hint to the media to not press his buttons unnecessarily. 
Meanwhile, on Twitter: 
Yikes. Not only do I wish I lived in a country that was run by @JustinTrudeau, I now also have a braincrush on him 😳 https://t.co/sLszN8DvAK

— Dr Suze Kundu (@FunSizeSuze) April 17, 2016
Hey, @JustinTrudeau! Want to come and live in France? We're in dire need of competent politicians around here.

— Sour-qu'astik Poney (@DrPoney) April 17, 2016
How can we get Justin Trudeau to stand for elections here?

— Madhu Menon (@madmanweb) April 17, 2016
Dear @Canada, can you give us a @JustinTrudeau clone? Love, @usa

— Drew Dietsch (@DrewDietsch) April 17, 2016
This is what teenagers call "getting owned". There's nothing like underestimating people, usually women face this. https://t.co/DZlpm1Fvjw

— Anakana Schofield (@AnakanaSchofiel) April 16, 2016
Not everyone was impressed
Pretty embarrassing how everyone ate up Trudeau's propaganda yesterday.

— David Rankin (@davidrankin) April 16, 2016
This Justin Trudeau is Rahul Gandhi of Canada. pic.twitter.com/vkXGNNdSao

— Devika (@Dayweekaa) April 17, 2016