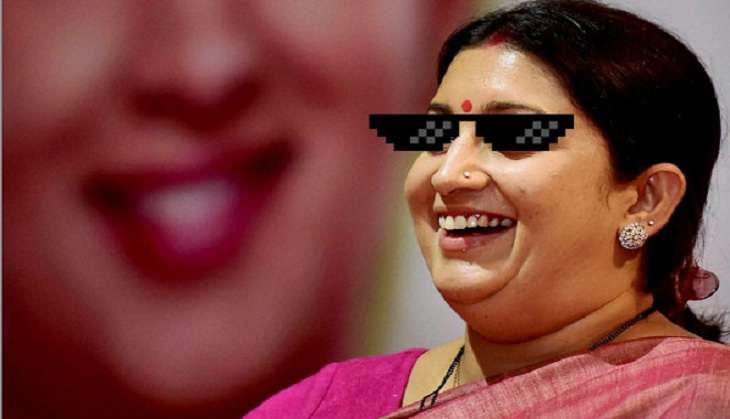 Erstwhile Human Resource Development Minister and current Textile Minister Smriti Irani is more badass than we give her credit for. On 25 August, she grinned into the camera and spoke about the time Jet Airways had rejected her application for the post of cabin crew, on grounds that she did not have a "good personality".
"My application for cabin crew position was rejected by Jet Airways, which felt I didn't have a good personality," Irani said while speaking at an awards function organised by the Air Passengers Association of India (APAI).
"I don't know if many people know that one of the first jobs that I wanted and I lined up for was cabin crew at Jet. I was rejected because I was told I don't have a good personality. Thank God for your rejection. After that, I got a job at McDonald's and the rest is history," she said.
The joke is clearly on Jet Airways. Although, to be fair, they could not possibly have predicted that the 20-something Irani would go on to become one of the female icons of power in the nation, a formidable force in the realm of politics.
To say that Smriti Irani's journey from being a cabin crew aspirant, to becoming a household name in the nation is inspirational, would be an understatement.
From the quintessential bahu, to becoming BJP's trump card
Her stint at McDonalds, and years of struggle later Irani landed modelling contracts, slowly but steadily making her way into the Indian soap industry. Irani's Tulsi Virani went on to become one of the most iconic characters of Indian television, her face epitomising the saas-bahu trope on Indian TV.
When Irani became a member of the Bharatiya Janata Party in 2003, and then went on to contest Kapil Sibal from the Chandi Chowk constituency in Delhi, critics were up in arms against her, calling her out for cashing in on her quintessential bahu image for votes. Flipping the bird to naysayers after her loss, she went on to become National Secretary of BJP in 2010, and was sworn in as member of Rajya Sabha in 2011.
She made history in 2014, contesting against Congress big gun Rahul Gandhi in the Amethi constituency during the Lok Sabha elections, and losing to him by a margin of 12.32 %. She had made her mark. She had successfully made her inroads, and people were now taking note.
Also read - 5 times Smriti Irani aced the game during her stint as HRD Minister
She lashed back with venom at Sanjay Nirupam's 'thumkewali' comment
Smriti Irani's emergence into the political arena after having reigned over the hearts of millions as Tulsi, and smashing stereotypes with elan, had not gone down well with the opposition.
In December 2012, during a TV debate on assembly election results of Gujarat, Congress leader Sanjay Nirupam referred to Smriti Irani as a 'thumkewaali'. 'Aap toh TV pe thumke lagati thi, aaj chunavi vishleshak ban gayi', he had said, sparking widespread controversy.
With her party rallying behind her, along with sections of the opposition condemning Nirupam for his derogatory remarks, Smriti was not the one to back down. She lashed back at him and slapped a legal notice against Nirupam for indulging in "gross defamation" and for his outright sexist comment.
You may call her 'aunty-national', but you can't ignore her oratorship
During her tenure as the HRD minister, a lot was said about Irani and her competence to handle the portfolio, considering her humble educational background. Degree holder from Yale or not, Irani's impassioned speech on the floors of the parliament on the JNU issue and the controversy surrounding Rohith Vemula's suicide became a rage.
She was mocked, memes were made on of her, people called her out for her acting skills. But the bottom line remained that she had made her point, and how. Her speech was intended to evoke, and it did.
She may have been removed from the HRD Ministry, but her spunk hasn't gone anywhere
One of the biggest political twists of the year came when Irani was dropped from the Human Resource Development Ministry and was replaced with Prakash Javadekar during the path-breaking Cabinet reshuffle that took place on 5 July.
Twitter went berserk, with #ByeByeSmriti trending wildly on top, as people took to the microblogging platform to express their relief, disbelief, and speculations surrounding the massive cabinet upheaval.
Amid celebrations over her removal, there were also speculations surrounding the possibilities of her being a formidable candidate for the upcoming Uttar Pradesh elections.
A twitter celebrity in her own right, she reclaimed her throne early on in her stint as Textile Minister, with the hashtag #ILoveHandloom. On the occasion of National Handloom Day, she did her bit for the indigenous industry, making it a wildly successful social media campaign.
Also read - Is your timeline overflowing with beautiful photos of handloom? Thank Smriti Irani for that
Smriti Zubin Irani may have been removed from her office as HRD Minister, but she's still around, sipping on her Starbucks coffee, biding her time.
We're about to witness a lot more of her badassery. Just wait and watch.