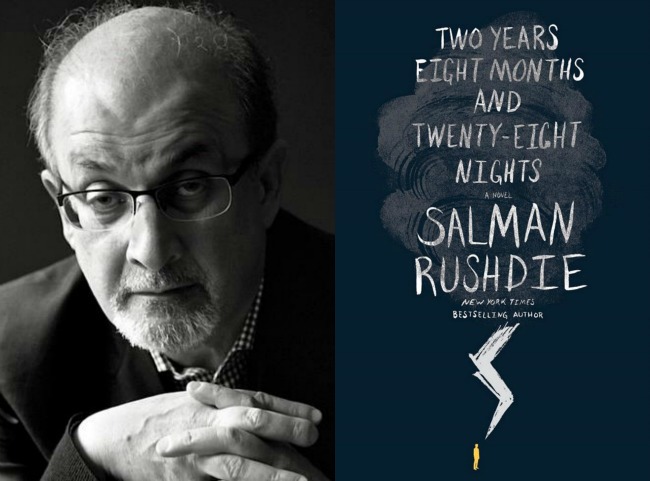 Blurring the lines between fantasy and magic realism, Salman Rushdie's brand new novel attempts a reconciliation of the human and the supernatural, the orient and the west and faith and reason.
Primarily set in New York in the United States of America,
Two Years Eight Months and Twenty-Eight Nights
revolves around Dunia, a female
jinnia
(genie), popularly believed to be creatures made of smokeless fire.Spanning over a period of two years, eight months and twenty-eight nights, the author weaves stories within stories as he narrates Dunia's amorous affair with a mortal man named Ibn Rushd who later abandons her and the consequences that follow the birth of innumerable children out of the seemingly impossible liaison."This is the the story of a jinnia, a great princess of the jinn, known as the Lightning Princess on account of her mastery over the thunder bolt, who loved a mortal man long ago... and of her return to the world... and then go to war. It is also the tale of many other jinn...and of the time of crisis, the time-out-of-joint which we call the time of strangenesses, which lasted for one thousand nights and one night more", the Booker Prize winner writes.Following a long wait for Ibn Rushd, a philosopher unaware of her supernatural form, to return after he abandons her, Dunia slips through a slit between the two worlds, into Peristan or Fairyland. Her brood, referred to as the Duniazat, continued to thrive, and as time passed by, they scattered across continents gradually losing track of their own origin and forgetting one another's identities and eventually existence.The only characteristic that was proof of their
jinn
descendancy was missing earlobes, and when Dunia returns to the mortal world, she searches out the earmarked descendants of her scattered tribe to "plant in their minds the knowledge of who they were."Teresa Saca, Jinendra Kapoor, Baby Storm and Hugo Casterbridge are among the many successors of Dunia who Rushdie writes about in the book.
The kind of storyteller that Rushdie is, his picturesque writing style, replete with metaphors and analogies, comes out significantly as he gives an account of the period of strangenesses."
The influence of the
jinn
was everywhere, but in those early days, before they fully revealed themselves, many of our ancestors did not see their hidden hands at work...In a Romanian village a woman started laying eggs. In a French town the citizenry began turning into rhinoceroses. Old Irish people took to living in rubbish bins... A Russian official lost his nose and then saw it walking around St Petersburg by itself... Ants crawled out of a hole in a man's palm," he writes.With
jinns
and collapsible portals between different worlds, the book is an oscillating ride between the genres of magic realism and fantasy, often evoking images from the collection of Middle-Eastern folktales
Arabian Nights
, animated TV series
Aladdin
and fantasy novel series
Harry Potter
.Jinendra Kapoor's journey through the wormhole at the end of which he meets Dunia, for instance, is an instant reminder of platform 'Nine and Three-Quarters' in Harry Potter that acts as a portal between the worlds of muggles and wizards.Although Rushdie does advocate the cause of free speech and secularism through Ibn Rushd's attempts to reconcile reason, logic and science with God, faith and Quran, his argument is extremely subtle.The novel is certainly engaging despite having drifted apart from reality significantly, however the grandeur of his previous works surpass this latest work.
-PTI